Job Widgets make it easy to add your jobs to any website. Job Widgets are most commonly used to add your jobs to the careers page of your company website and/or blog, but can be used to display your jobs anywhere on the web.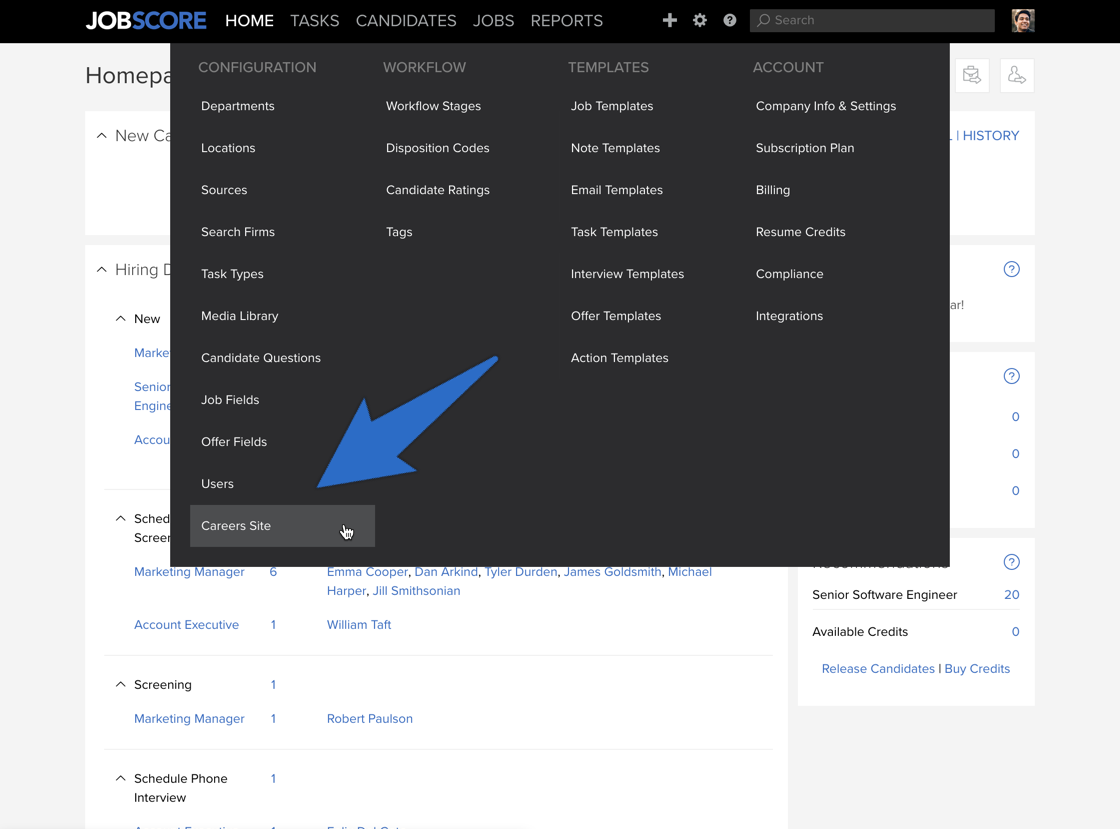 Scroll down and click on "Job Widgets".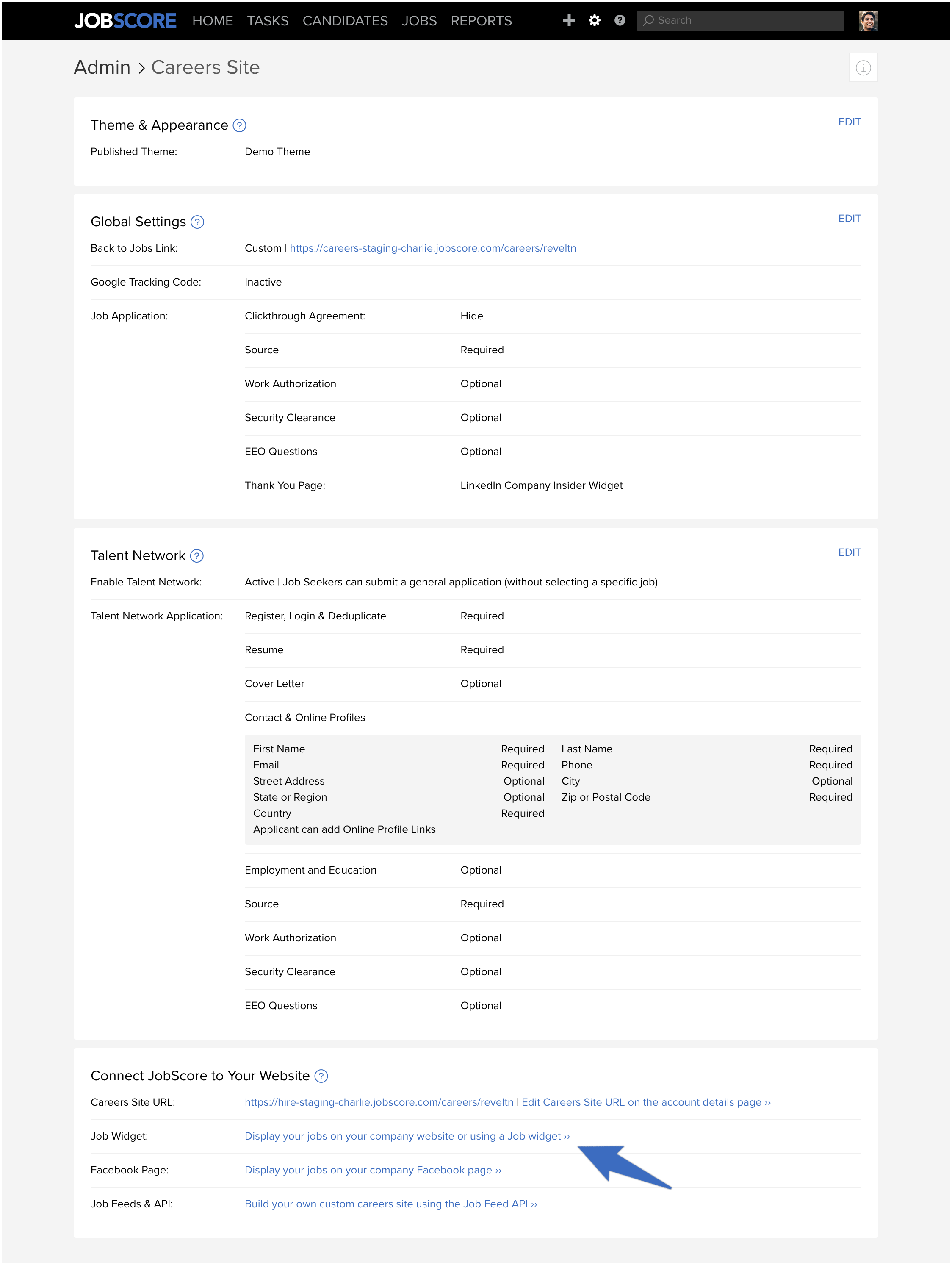 There are three layout styles for job widgets: grouped, single column and multi-column: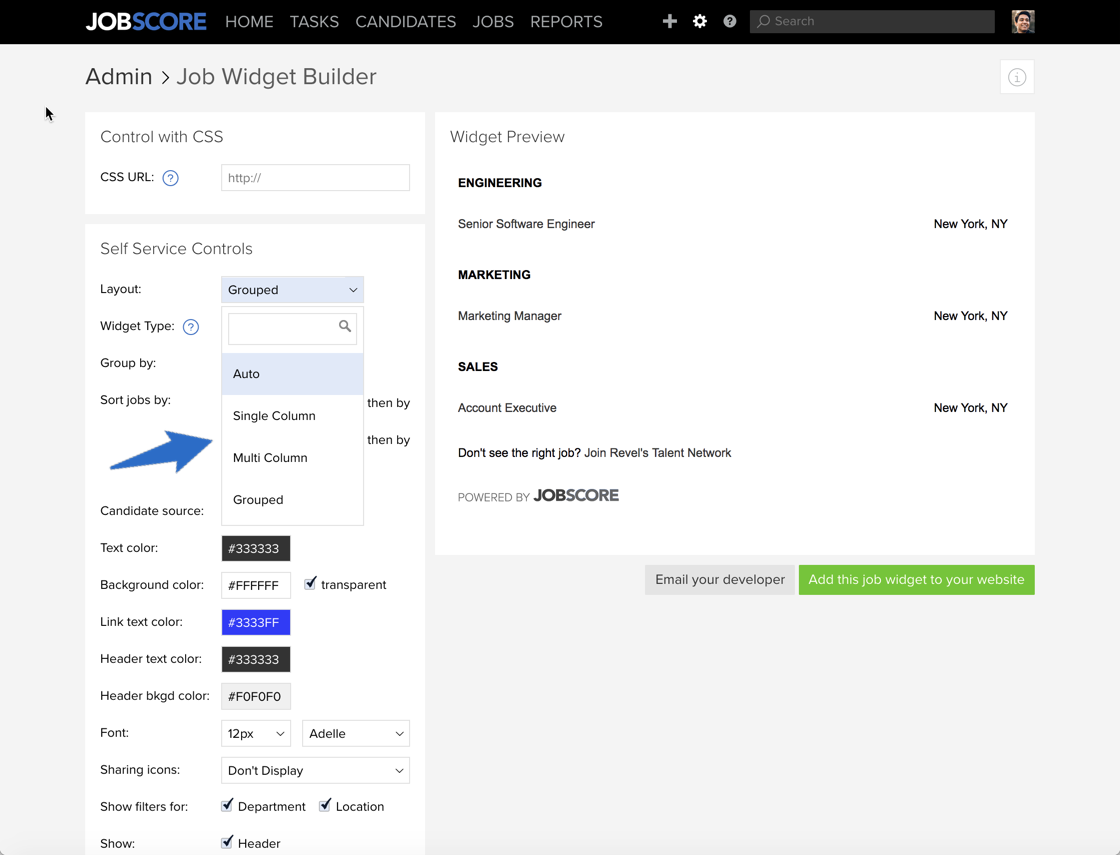 Grouped:

This style makes it easy for job seekers to scan through a list of jobs and find what's relevant for them:

Multi-Column:

Got lots of jobs? Multi-column allows job seekers to easily slice and dice long lists of jobs.

Single Column:

A great style if you only have a few open jobs, and like big fonts:
---
Search and Filtering (if you have lots of jobs):
Real-Time Search:
When 8 or more jobs are shown, a real-time search box appears. When an applicant starts typing, the list is filtered to only show jobs with matching keywords.

Filter by Department or Location:
When 8 or more jobs are shown, the department and location filters also appear. When job seekers select a specific department or location the list will be filtered to only show matching jobs.

Search & filter controls appear by default if there are more than 8 jobs. Customers who upgrade to the JobScore Scale or Enterprise Plan can turn off search and filtering controls if they like.
---
How to use the Jobscore Widget Builder
Jobscore's widget builder makes it simple to embed a list of jobs on your company's website, blogs, or any other web page where Javascript can be embedded. To activate the Widget Builder, go to "Admin -> Careers Site Appearance and click -> Create a custom jobs widget for your site:

The Widget builder has 3 main sections: Basic Controls, Advanced Controls and the Widget Preview pane.
Basic Controls:
The basic controls determine how jobs are organized. This includes layout styles (described above), which job attributes to display and candidate source tracking (i.e. - what source should be assigned to candidates who click on jobs from this widget?).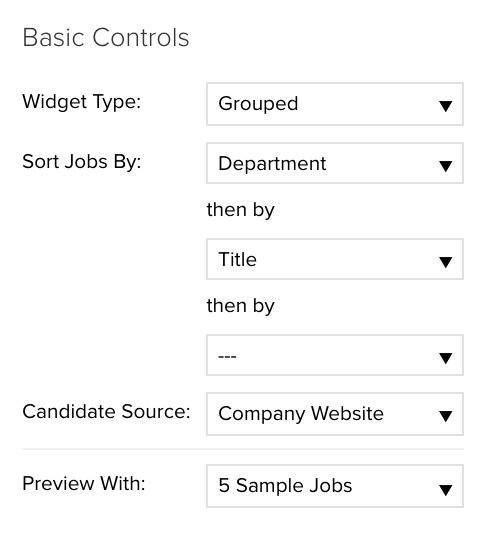 The "preview with" option allows you to see how the widget will appear with different numbers of jobs in a list - which is useful because you'll likely embed the widget once, but be opening and filling jobs all the time.
The easiest way to understand these controls is to just play around with them and see what happens in the preview pane. Click around - really - you won't break anything.
Advanced Controls:
Advanced controls enable you to control the appearance of your widget. You can edit colors, fonts, font-sizes, hide and show different sections of the widget, set custom css stylesheets and more.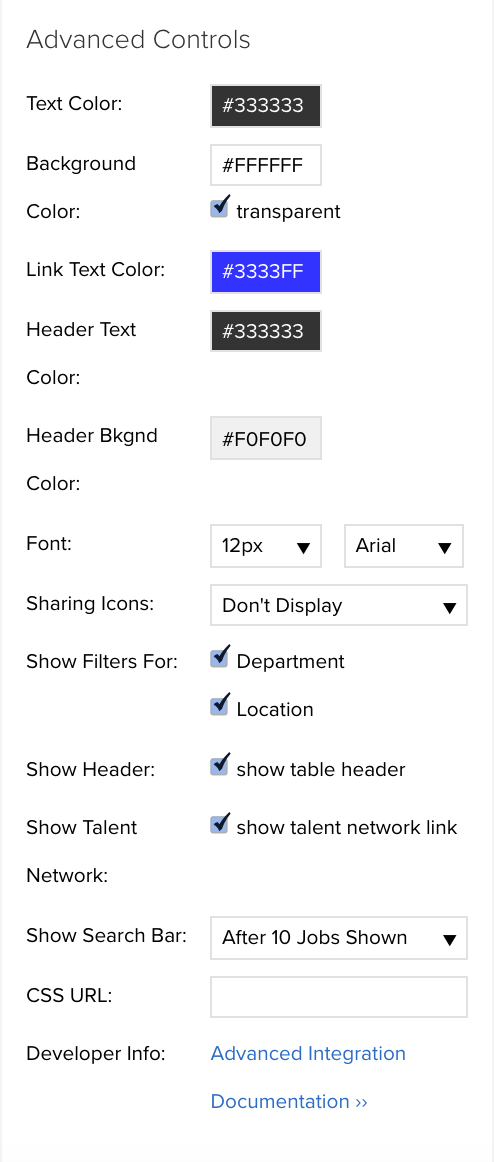 Advanced controls are only available for JobScore customers who upgrade to the Scale or Enterprise Plan. If you want complete control over your widget, please point your webmaster or web designer at our documentation for developers.
Deploying your widget:
Once you've configured the jobs widget to look the way you want, click the 'Add this jobs widget to your website >>' button below the Widget Preview panel: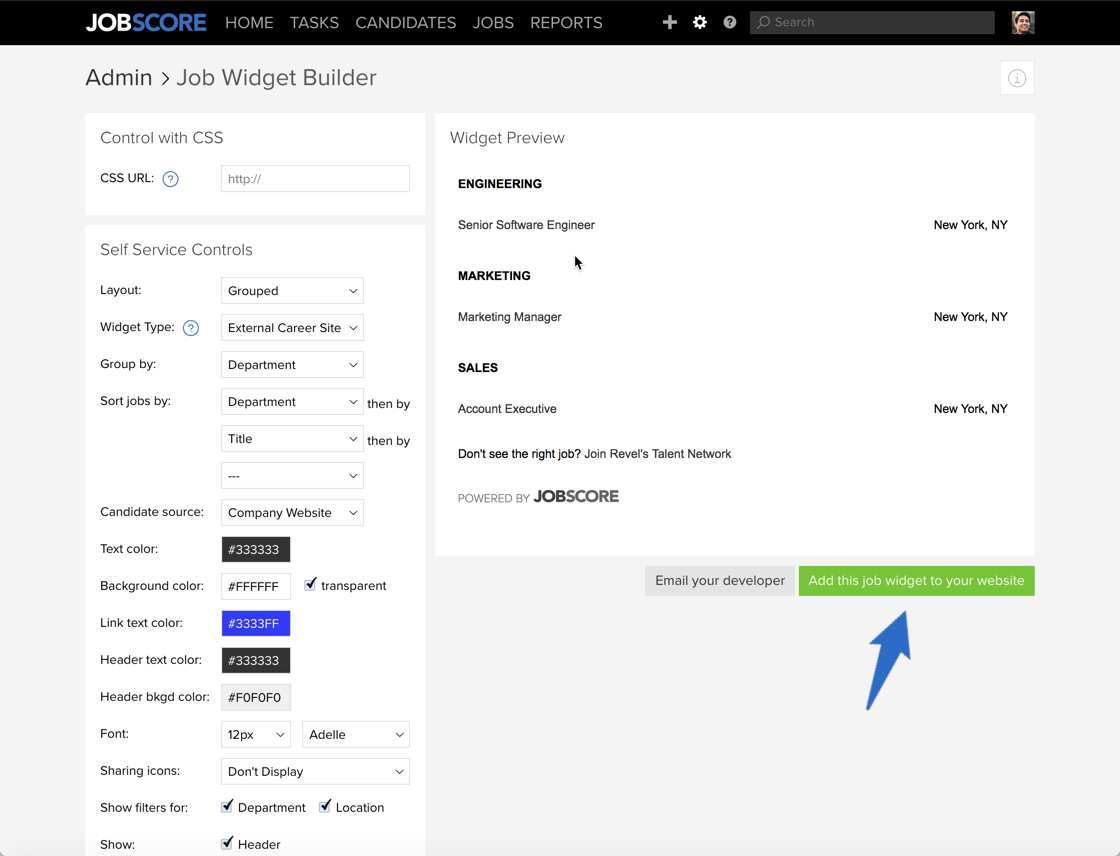 A dialog box with the embed code to add to your website will appear.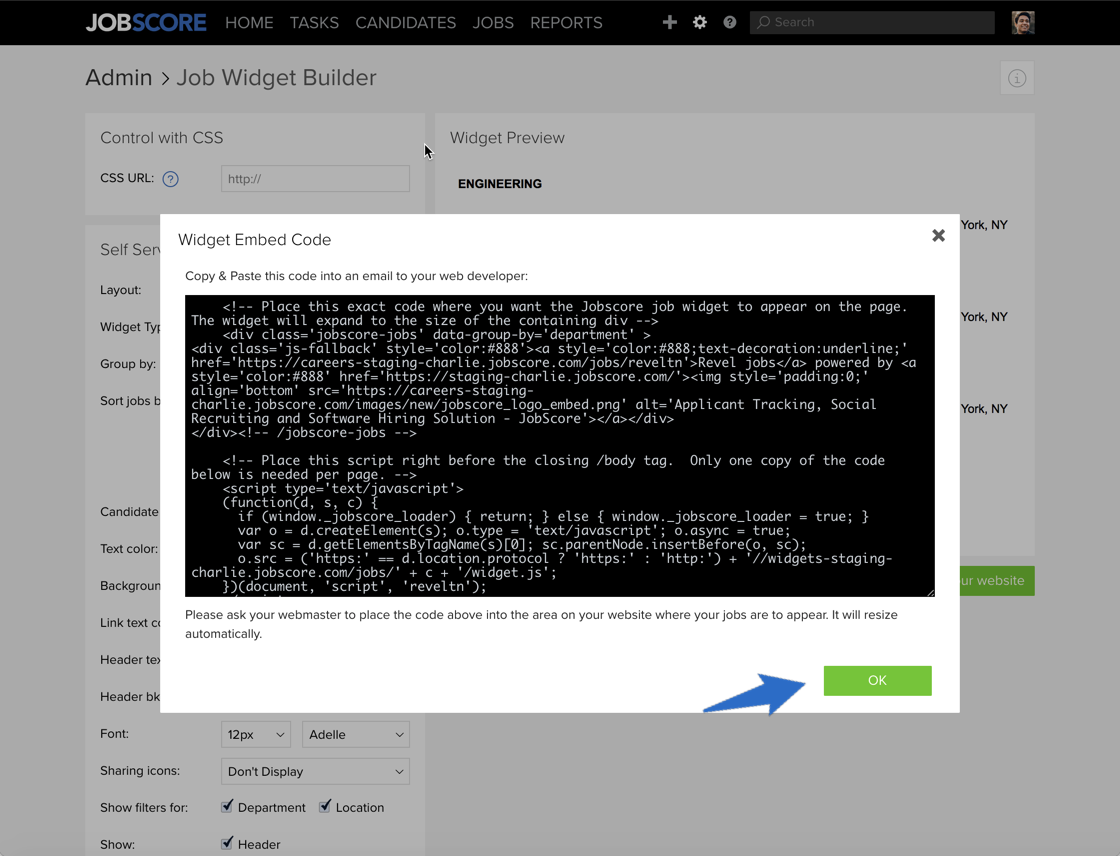 Copy and paste this code exactly as it appears into an email to your web developer. Tell the developer which page and which location you'd like the Jobs Widget to appear. The code contains instructions in the comments for your developer to install the widget and should render the jobs seamlessly on the page.
If the developer has any questions, suggest they review this page and/or our instructions on how to embed widgets on your careers page.
If you have any questions with widgets, please don't hesitate to contact us.