Did you recently learn that your company is using JobScore to power the hiring process for your company. You're probably now wondering what this means for you: how does it work and what do you need to do.
Your role in the hiring process is important, and also straightforward. In general, with JobScore there are three basic activities: sharing jobs with your networks, referring friends, and providing post-interview feedback.
Using the Home Page
JobScore's Home Page provides one stop access to all the tools you'll need to execute your part of the hiring process.
Here is an overview of your JobScore Home page: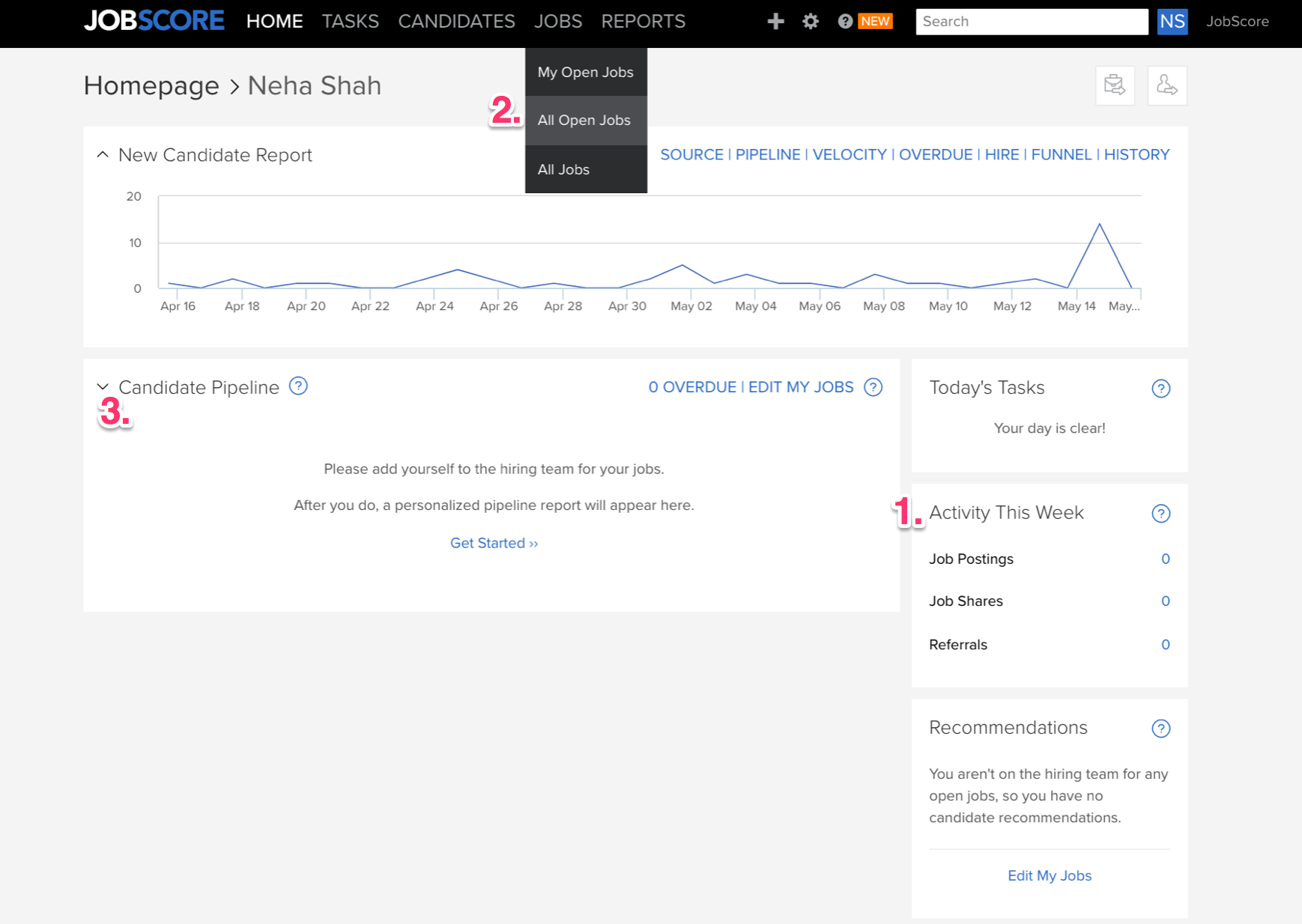 Sharing Activity is where you can see how active you're being in sharing jobs and compare yourself to co-workers.
Open Jobs shows the jobs available at your company. You can share a job and refer a friend for any open job. These jobs are also posted on your company's careers site.
My Candidate Pipeline displays open jobs where you are on the hiring team. Click Edit My Jobs to add jobs to or delete from the list.
Sharing Jobs
The best way for your company to acquire top talent is through you. Sharing open jobs with your network is a great first step in letting people in your network know about the great opportunities available. Here's how you share jobs:
From the JobScore Home Page, look in Open Jobs section as shown below.

Click Share Job for the job you want to share.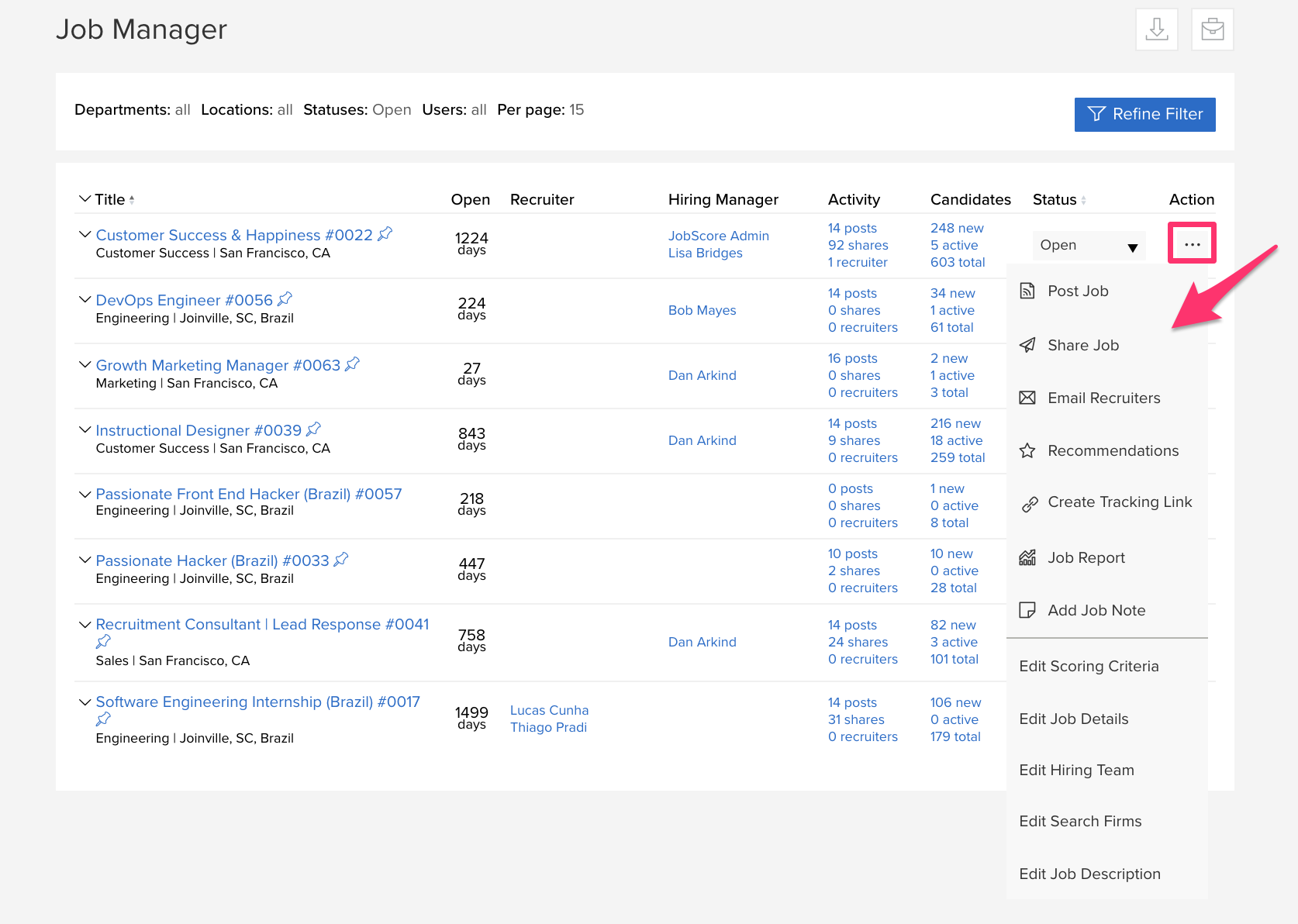 Click Update my Social Networks checkbox.
Select Facebook, Twitter, Linked In and/or Google Buzz.
You'll figure out the rest… you're probably familiar with using these social networks anyhow.
Would you like to see activity related to the jobs you've shared?
Click your name to access your user account as shown below.
Click Shares tab as seen above. Here you can see all of your sharing history including job title, network shared with, count of views of the job description shared, count of applications received from your network, and average score of people who applied from your job share.
Referring Friends
You can also refer a friend in JobScore. Feel free to enter information for the people you know who would be a good fit for an open position. Here's how you refer a friend:

From the JobScore Home Page, look in the Open Jobs section.
Click Refer a Friend for the job you have a friend to refer.
Enter as much information as you know about your referral but at a minimum include their full name, email address and the url to their LinkedIn profile.
Click Add.
Providing Post-Interview Feedback
You may occasionally be asked to interview candidates for open positions. It's important to capture in JobScore your feedback about candidates within 1-2 days of the interview. Here's how you do that:
1. While viewing the candidate's record, click Notes tab. See below

2. Click Add Note.
3. Type your feedback about your interview with the candidate. You can even upload an attachment to the note.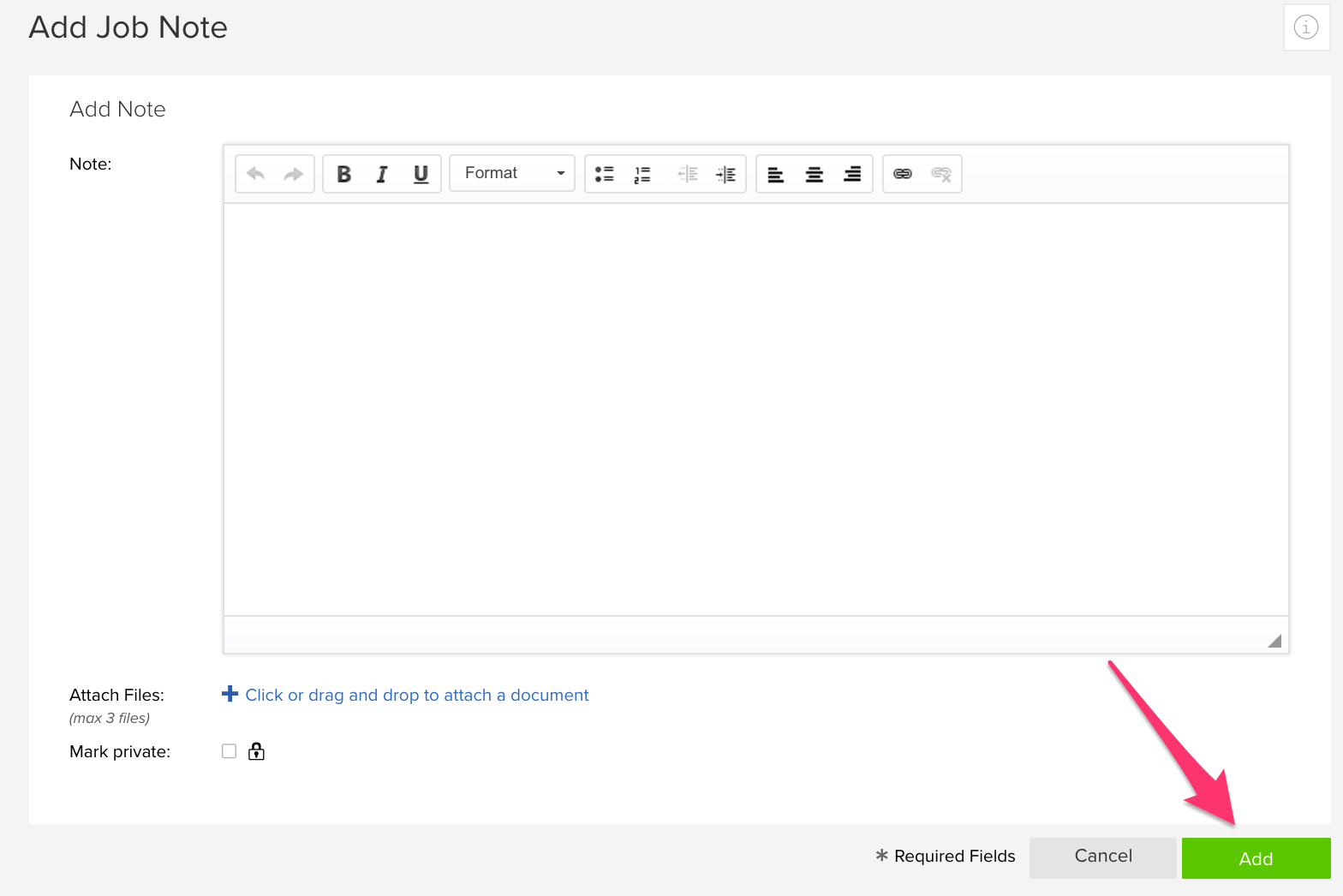 4. Click Add.