Merging candidates is easy. Watch this animation or scroll down for step by step directions...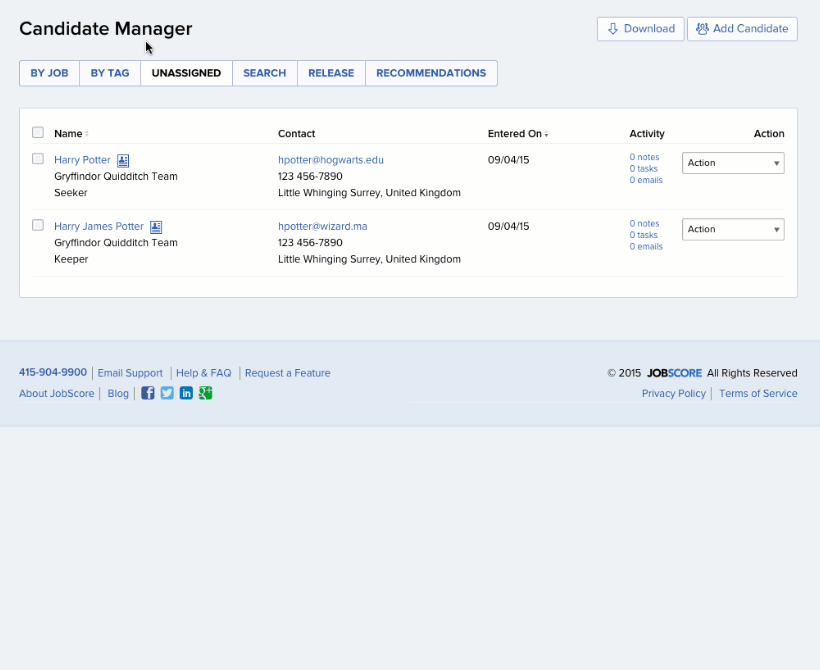 Find the Candidate that you wish to merge.

Select the "Winner" Candidate Profile (i.e. the candidate who directly applied to JobScore) **

In the "Contact" section, click "EDIT" 

Below the navigation toolbar, click "MERGE CANDIDATE"

As prompted, choose the "Loser" profile by typing in the appropriate candidate name. 

Once you select the "Loser" candidate click Next.

A lightbox will appear guiding you through a series of 4 steps. Review the information you would like to maintain on the "Winner" candidate card. You can easily copy any information from the "Loser" and paste into the appropriate field of the "Winner".

A confirmation message will appear — "The candidate XX was successfully merged with XX" — and all information from the "Loser" profile will be merged into the "Winner" profile.
**NOTE

The candidate who applied directly to JobScore (i.e. applied through your company website or an associated Job Board), must be the "Winner." Their information cannot be deleted from the JobScore system for compliance purposes. The "Loser" of the merge process is the candidate profile that was manually added by a JobScore User.