Important: Only Google Workspace super administrators can complete the steps below. You are a Super admin if you can access this page and see the billing tab. If you are not a Google Workspace Super administrator, please share this article with a Google Workspace super administrator (usually someone in your IT department) and add them to your JobScore account on the add user page here.
---
Overview
JobScore is web based software that your team uses to drive recruiting. Scheduling phone calls and onsite interviews is an important and time-consuming part of hiring. The JobScore ←→ Google Calendar integration makes this process faster and easier by allowing your recruiting team to do the following inside the JobScore interface:
See your team's free/busy status
Schedule phone calls and multi-person onsite interview panels
This saves hundreds - if not thousands - of actions each month, keeps a log of who-spoke-with-who, tracks whether team members added feedback, and creates a place where the team can see interviewing activity for the entire company.
Install the JobScore Google Marketplace App
Please install the JobScore Google Marketplace App here.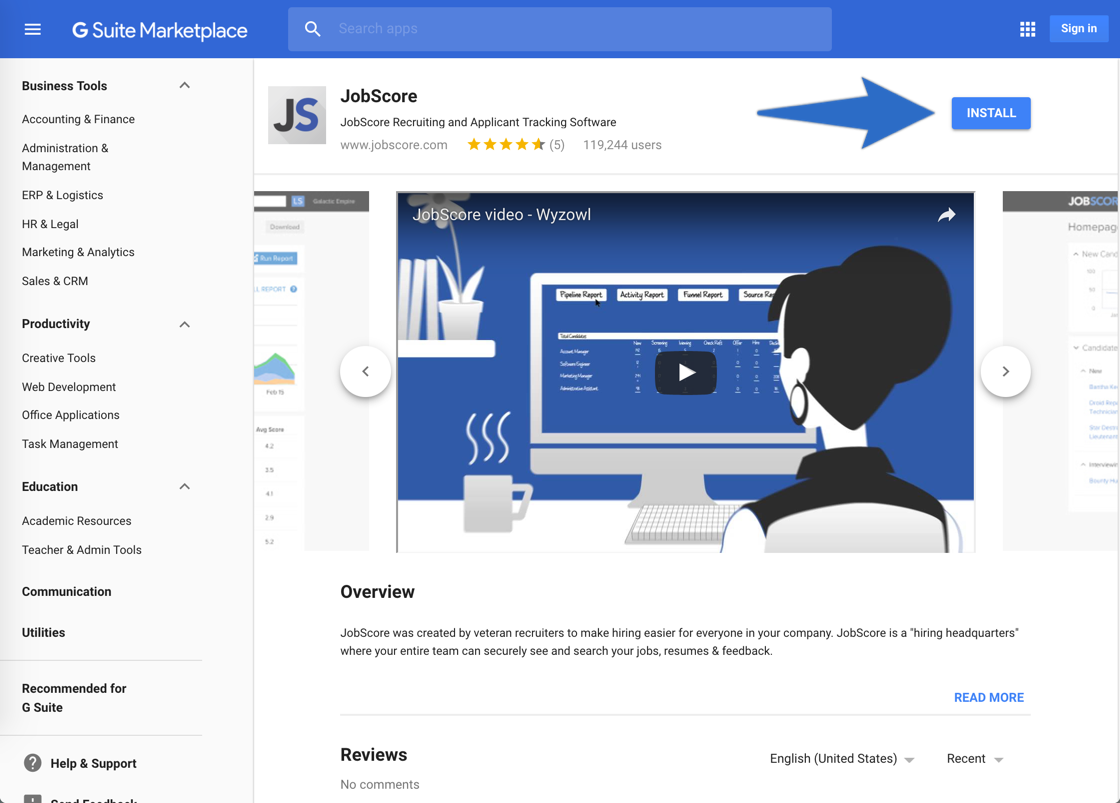 If you don't have the Marketplace App installed, please follow the self-service installation instructions. Note: if you use a single sign on provider other than Google Workspace for your company (Okta, Onelogin, etc.) you will not be able to complete self-service calendar installation. Please contact support@jobscore.com for help.
If you previously installed the marketplace app, please take a moment to update your Google Workspace app permissions before proceeding. Step by step instructions are here.
Get Started: Activate the Integration
After you've completed the steps above please visit this page in JobScore and fill out the value in the form:
Event Invitations

: Choose whether to send out calendar invitations for your team to accept / decline OR to have your invitations be auto-accepted.

Auto-accepting makes scheduling easier by allowing you to set appointments and email interview confirmations to candidates in one step. We recommend choosing Auto-accept. You can always come back and change this later if needed.
Once you've entered this information, click "Activate Integration" at the bottom of the page button to turn everything on.
Test: Just to make sure
Take a moment to ensure everything is working by testing the integration:
From one of the candidates listed click on the three dots action menu on the far right of the row. Select Add task from the menu.
Ensure "sync with calendar" is checked (at the top right)
Select a date when you know you have something scheduled on your calendar
Click (+) Add User at the bottom of the first table and choose yourself
If your free/busy information is shown (blue is busy) you are good to go! If you have any additional questions about these instructions or anything else related to our Google Calendar integration, please email us at support@jobscore.com