Overview
Knowing where a candidate is in your hiring process is one of the advantages to using a leading applicant tracking system like JobScore. As a candidate progresses through your hiring process, you track their status using Candidate Stages. The candidate's stage designates where they are in your company's hiring workflow.
In JobScore, candidates start out in the stage of "New," which indicates they have just been added. You then update the stage to, for example, "Active > Interviewing" and then on to "Declined" or possibly "Hired" as you move them through your hiring process and select your finalist.
Also, it's possible for a candidate to be assigned to more than one job. In this case, they will have a stage for each job assignment.
To view a candidate and their stage, toggle over the gear icon. Scroll down to workflow, then click on candidate stages.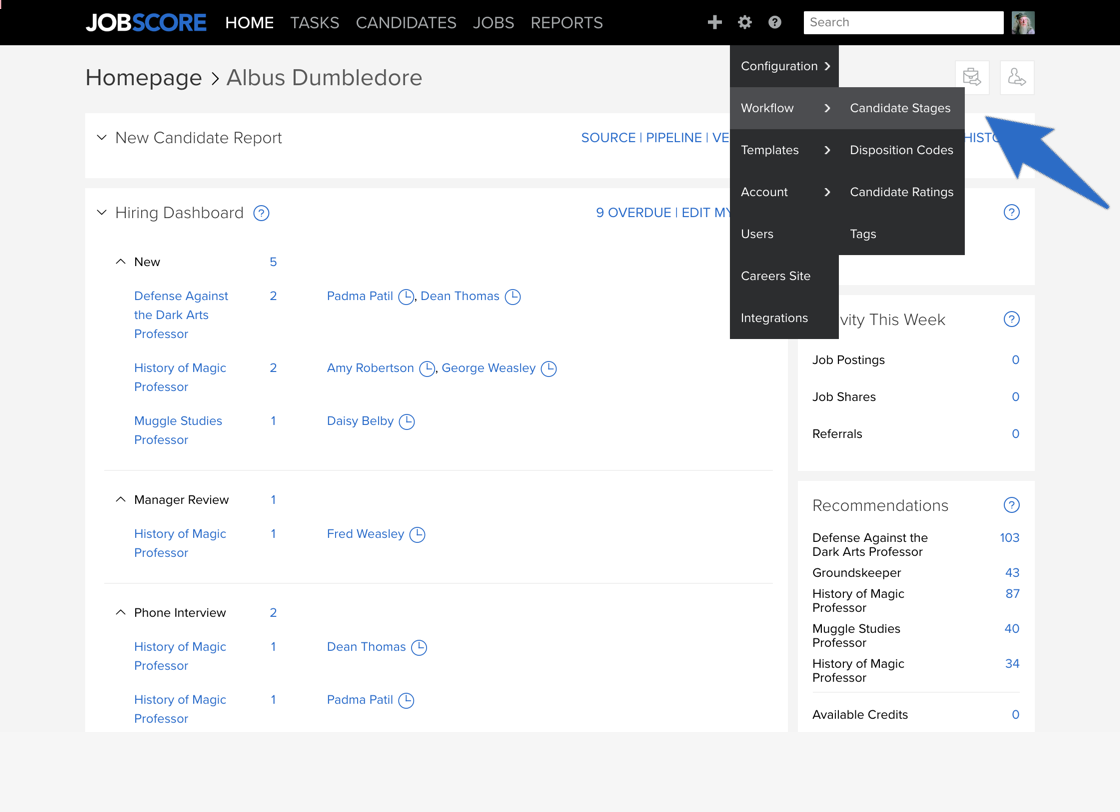 Standard Stages
JobScore has five primary standard stages:
New applied to candidates when they are first submitted to your account
Active which has the sub-categories Screening, Interviewing, On-hold and Offer
Declined indicates that you are no longer interested in the candidate
Withdrawn for when the candidate withdraws from the hiring process
Hired means just that: you're hiring the candidate
Because they're used in reports, these standard stage options can't be changed, disabled or removed. You can customize your JobScore hiring workflow by adding as many additional "Active" stage options as you need.
Additional Information
Here are some additional things to keep in mind about candidate stages:
Candidates remain in the "New" stage until you update their stage.
Depending on your resume sharing configuration, a candidate's stage dictates if and when they're released to the JobScore Network.
A candidate's stage is completely independent of tasks, notes, and email alerts.
You can add and re-order additional stages to reflect your company's hiring process.
Recommended Stages
When recruiting is shared between recruiter and hiring manager, here are the stages we recommend:
Schedule Recruiter Screen - when a candidate has been scheduled for a pre-screen screen with the recruiter and awaiting outcome of activity
Screening – when you or someone else are doing a pre-screen
Schedule Phone Interview – when a phone interview is being scheduled with the candidate and manager
Phone Interview – when a candidate has been scheduled for phone interview with the manager and awaiting outcome of activity
Schedule Onsite Interview – when a candidate has been successfully phone interviewed and you're trying to schedule an interview
Interviewing – when a candidate has been scheduled for the interview and awaiting outcome of activity
Check References – when a candidate has been selected for hire and references are being checked
Offer – when a candidate has officially been offered the job. Next stage choice is "Hired", "Declined" or "Withdrawn"
From any of these stages, you have the option of declining the candidate.
As mentioned, JobScore's Recruiting Analytics provide a roll up of both standard and custom stages. And by the way, when your company has multiple recruiters working with multiple hiring managers – our recommended set up of stages is the same. You'll just have to agree on using these stages in the same way and use reports to measure progress.
Best Practice Considerations
Here's our #1 tip when setting up your custom candidate stages in JobScore: Keep Things Simple. We recommend not trying to track every action you or a hiring manager can possibly take on a candidate. Rather, track the major milestones in your hiring process.
Your goal with setting up candidate workflow in JobScore is to be able to quickly view a candidate's stage and also to be able to report on your candidate pipeline which, by the way, requires timely updates by your team. Having a stage for every possible activity in the hiring process usually ends up with folks frustrated with the tedium of updating stages, they give up and then you and your company's leaders don't reap the full value of tracking - or of JobScore. Keep in mind that this is the holy grail of applicant tracking systems – to create just enough workflow that people use it, that it provides useful information and that it helps you educate and inform your hiring teams on progress with open jobs.
We recommend determining your process on paper or just "white board" it before adding your custom stages to JobScore. This will help you sort out "who's going to do what when" as it relates to sourcing, engaging, screening, interviewing and declining candidates. And from there, you'll identify the milestones you want to track in JobScore.
To get started with this, just start writing down who does what when. Here's a list of questions for you to answer:
Is everyone (i.e., hiring managers and interviewers) going to have access to JobScore?

If not, how will information be provided to them and shared?
Who reviews resumes initially? Recruiter or hiring manager? How are new resumes routed (through JobScore email alerts or forwarded after recruiter's initial screening)
What does a Hiring Manager do with the prescreened candidates?

If they want to proceed? (i.e. update candidate to which stage? Email you?)
If they want to decline? (i.e. update candidate to which stage? Email you?)
Who books phone screens?

Do you want to track in your email/calendaring application and JobScore? If yes, how?
If using GoogleApps, will you use JobScore to schedule meetings?
What happens after phone screens?

If you want to proceed?
If you want to decline? Who sends decline communication?
How is feedback captured and shared?
Who books onsite interviews?

Do you want to track in your email/calendaring application and JobScore? If yes, how?
If using GoogleApps, will you use JobScore to schedule meetings?
How do we use JobScore to augment the interviewing process? (i.e., sending resumes to interview team)
How do we make sure everyone is prepped for onsites before they happen (resumes printed up, information shared
What happens after on-site interviews?

If we want to proceed?
If we want to decline?
How is feedback captured?
What are your reporting requirements?

What reports would your senior leadership like to see at what frequency?
What reports would hiring managers like to receive so you stay on the same page?
So you answer these questions, determine major milestones to track, and then add them to JobScore as "Candidate Stages." Of course, with this information, you'll also be able to train others, create a service level agreement for use with hiring managers, share reports with others, etc.