Here's how you review and contact candidates who are in the JobScore Network who have been recommended for one of your jobs:
While viewing a job record, click on the Scoring tab, and then on the "See Recommendations" button: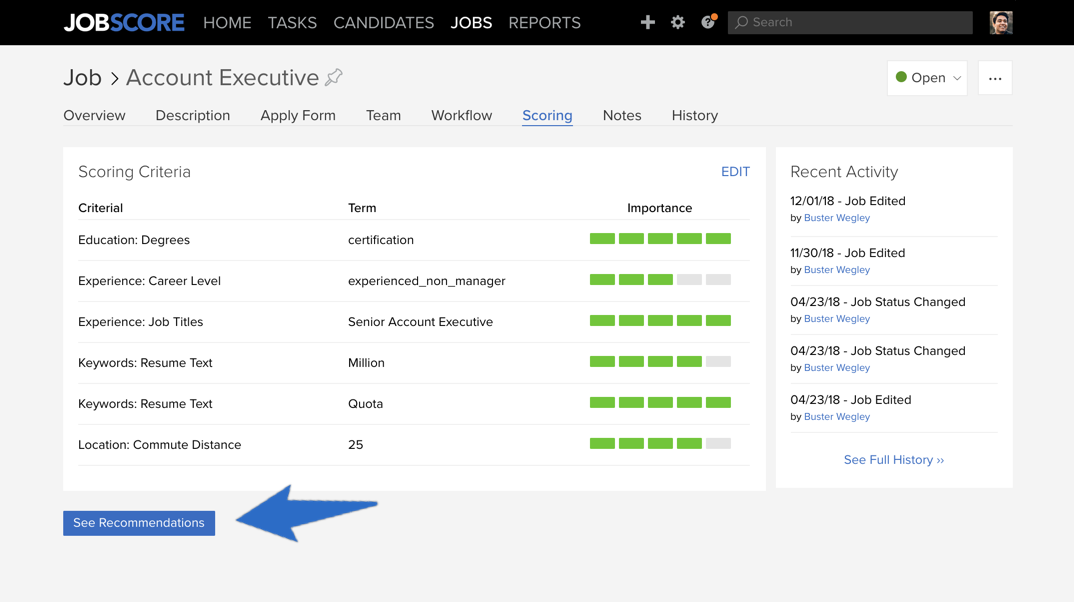 By default, this will pull up a list of recommended network candidates sorted by their last "Active" date - which is the last time they logged into JobScore to apply for another job or update their profile information.
You can click the "Score" column heading to sort the list by most qualified candidates.
Job Selection in filter
Network vs Account Candidates
Default view and click by score.
If scores seem off you can edit criteria. link to that content. add in that candidates are re-scored over night, check back next day for new recommendations that you can see on home page.
You can do either:
Contact: full access to personally idenfieable info: name, full contact info, and resume.

assigned to job that they were recommended for (the job you filtered by) and assigned to New status.
1 credit deducted from your account.
email copy of job description to candidate and notifying that your company has accessed their profile.

(best practice: you need to phone/email and recruit them since they don't know you. We don't share your information with them)

Remove: will not show that candidate to you again for that job i.e., "don't show me this candidate again".

Best practice: you should do one or the other so that JobScore works better in the future.