A candidate's source tells you how a person was entered into the JobScore system. Every candidate in JobScore has only 1 source. JobScore does it's best to automatically pre-populate source information to minimize data entry and improve reporting accuracy for both your team and job applicants.
The source can tell you whether someone found your job on Indeed.com, a friend's tweet or by browsing your company website. Candidate source doesn't just track inbound applications - it also tracks how your team is adding people directly into the system - because they may have met someone at an event, found them in an online resume database or be referring their college roommate.
Two ways to use Candidate Sources:
1. Reviewing: Where a candidate comes from matters when evaluate them. Someone referred by a top performing employee may be considered differently from someone who applied from a job board. JobScore makes it easy to filter and sort lists of candidates by source using the filter at the top of the Candidate Manager.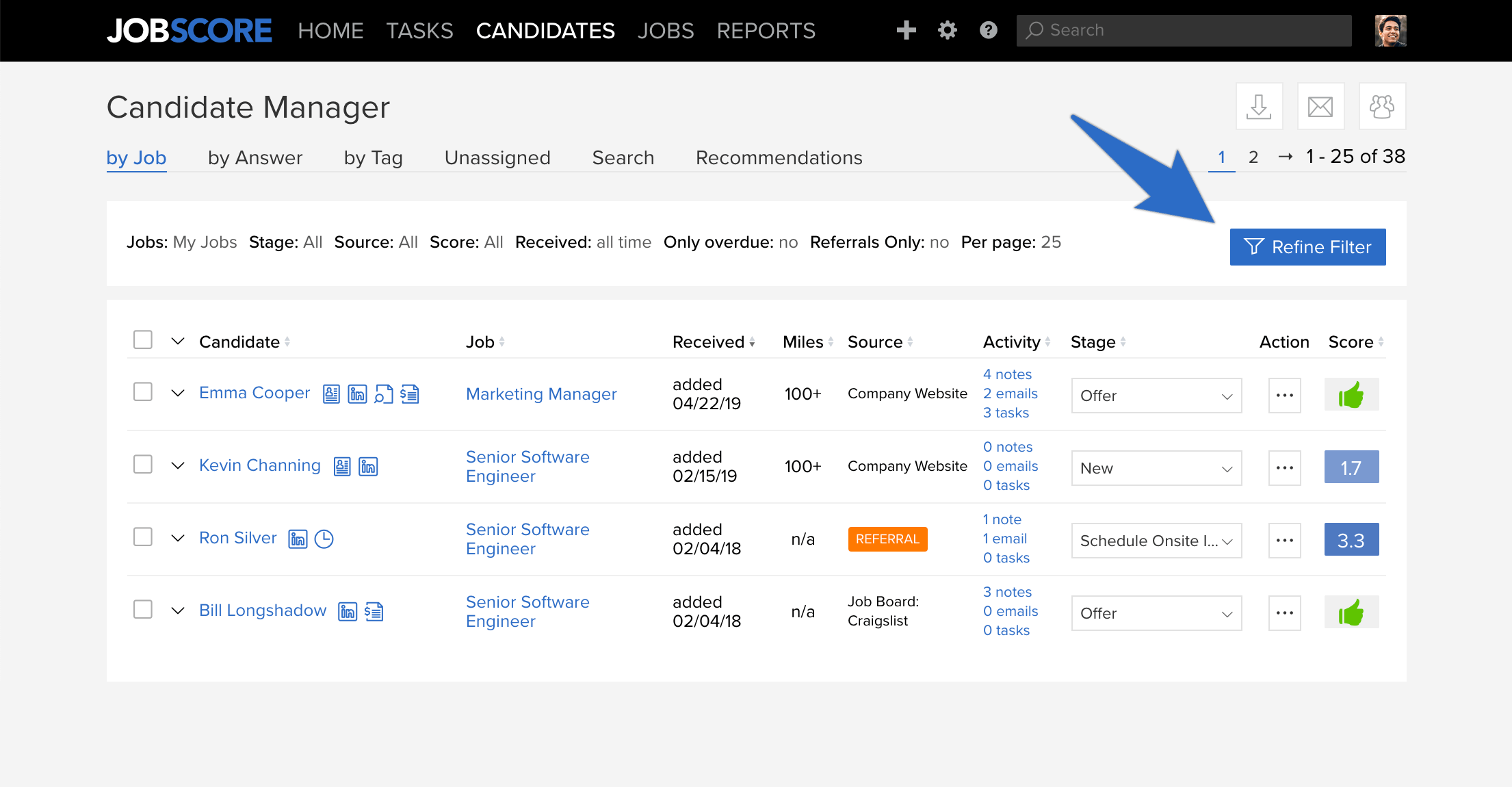 2. Reporting: Tracking the source of candidates is a great way to optimize your recruiting spend. Generating candidate traffic costs money. Reviewing, scheduling and interviewing candidates costs even more time and money. The source quality report shows what's working so you can deploy your valuable time and capital to greatest effect.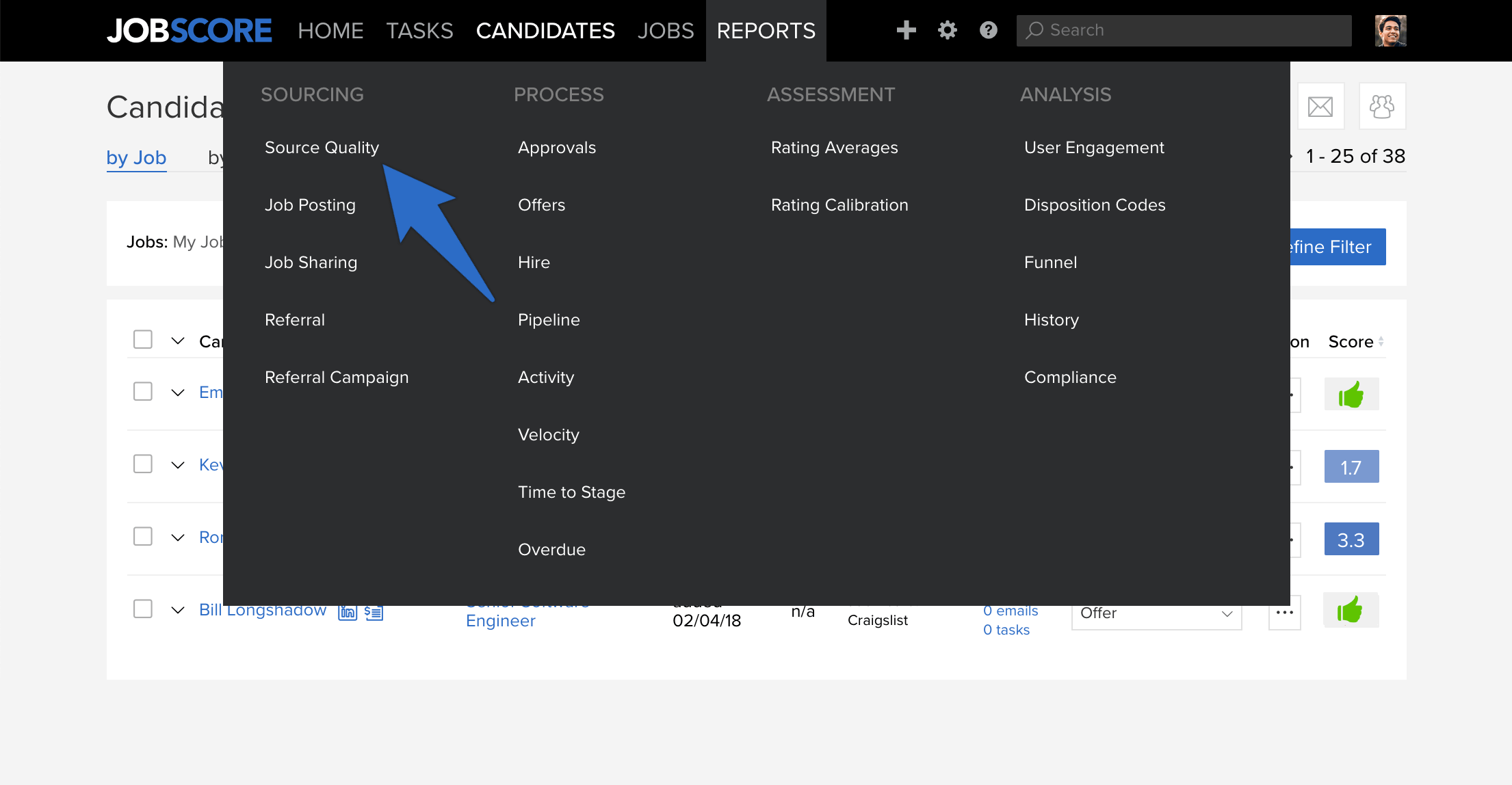 To view source quality data set your filter and click Run Report.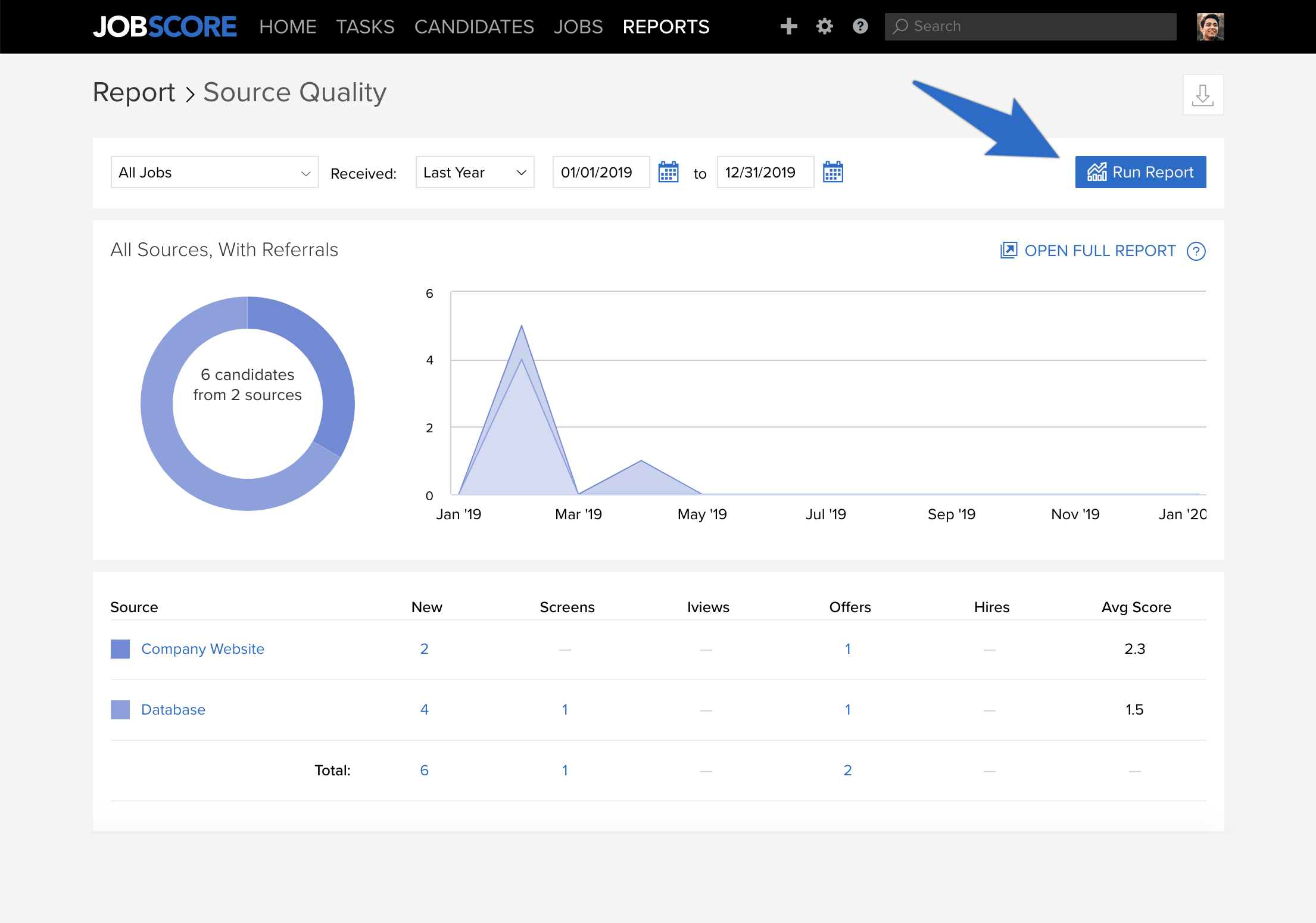 How do candidate sources work?
There are three different parts of each candidate's source
1. Primary source

The primary source tells you where the candidate comes from and how they were entered into JobScore. Candidates can be entered in 3 ways:

The candidate applies for a job or joins your talent network.
Someone from your team adds them into JobScore, typically through passive candidate sourcing or as an employee referral.
A 3rd party search firm submits them for a specific job

Primary sources track *how* someone was added to JobScore.

2. Secondary source

Some sources, like job boards, search firms, databases and users will have additional detail about where a candidate comes from - this is their secondary source. When someone applies for a job from a job board, their source isn't just "job board" - they saw a posting on a specific website like Indeed, LinkedIn or Monster. If a search firm submits a candidate their source isn't just "search firm" - it's a specific recruiter at a specific firm who submitted them.

Secondary source provides detail about *where* candidates come from.

3. Referral Information

In JobScore referrals are not considered a primary or a secondary source. Referrals can be entered into the system in many ways. A referral might come in because someone shared a job with friends on Facebook, sent an email, or added them directly to the system. That's the "how" and the "where" of the referral. Referral information is stored in the "referred by" attribute which includes the person who referred the candidate's name and email.

Referral information tracks *who* is responsible for a referral - and gets credit for them.
Source types
JobScore includes a fixed set of primary sources. To keep reports "clean" and consistent your list of primary sources cannot be edited, but you are welcome to add, edit and delete secondary sources. Primary source types include:
Company Website

Candidates who apply through your JobScore-powered careers site are attributed the Company Website source. There are no secondary sources for company website. Learn to set up your company careers site

Job Board

When you purchase a job posting through JobScore, all the applicants you generate will have the primary source Job Board, and the name of the job board will be included as the secondary source.

To have the source pre-populated for postings you purchase on your own outside JobScore, please follow these instructions on how to create custom tracking links to insert into your job postings. Edit your list of Job Boards here

Social Network

JobScore makes it easy for your team to share jobs on Social Networks. When a job is shared on LinkedIn, Facebook or Twitter a custom tracking link is created and inserted with your content. These links set the primary source as Social Network, the secondary source as the network (e.g. LinkedIn) and pre-populate the "referred by" attribute with the first name, last name and email of the person doing the sharing, so they get referral credit.

Email

JobScore makes it easy for your team to share jobs with their friends by sending an email. When they send emails through JobScore a custom tracking link is created that sets the primary source as email. Email has no secondary source, but the "referred by" attribute is pre-populated with the name and email address of the sender, so they get credit for anyone who applies.

Event

Event is used to track the candidates you meet in-person at events like career fairs, meetups or hackathons. JobScore lets you create a secondary source for each event you attend. Edit your list of events here

Internal

Internal is used to track current employees who apply for another job at your company. The "Internal" source will not be shown on your careers site, it can only be used in the employer-facing ui.




User

When someone at your company adds a candidate directly into the system, either because they know them, or on behalf of someone else, the source is set to User. User always has a secondary source and you must select a person who is registered in your JobScore account. In addition to the primary source (user) and secondary source (john doe), user added candidates may also have the "referred by" attribute.

By default when users with the limited and standard access levels use the add candidate page the source is set to them (they added the candidate) and and the "referred by" attribute is also set to their name - they are referring them! It's not unusual for recruiters and HR professionals to be asked to add candidates to the system for other people - so in this case the recruiter would be the "user" but the teammate who referred the candidate would be entered under "referred by" - as it's their referral.

Database

As your organization grows you'll often need to start searching for and actively pursuing candidates. The database primary source is used to keep track of where you find candidates online. Most employers create a unique source for each free and paid database source they use - e.g. Google, LinkedIn Recruiter or Zoominfo.

Firms with multiple recruiters and sourcers often create multiple entries for the same database to keep track of the activity and effectiveness of different recruiters. For instance, if Mary and Jane are both using LinkedIn Recruiter to find candidates, create two different sources "LinkedIn - Mary" and "LinkedIn - Jane" so you can easily track and report on the performance of both people and tools. Edit your list of databases here

Search Firm

The Search Firm primary source is used to attribute candidates to 3rd party recruiting agencies. Search Firms have two types of secondary sources, one for the search firm and another for the recruiter who works there.

The search firm source is unique in that it is bundled with the Search Firm Management feature. When this feature is turned on, search firms can be invited to submit candidates by email. These email submissions are automatically attributed to the Search Firm Recruiter who submits them. Edit your list of search firms here
Candidates can edit their source when they apply
JobScore does it's best to pre-populate the source for all candidates who apply for your jobs. For instance, if a candidate finds a jobs you posted on Indeed.com and clicks to apply, the source will be pre-populated with job board > indeed.
Unfortunately, this pre-population is not an exact science. For instance, if one of your employees encourages someone to check out a job on your company careers site and clicks to apply their source will be listed as "company website" - when in fact they were referred by your employee in the real world. For this reason, we allow candidates to edit the source when they apply.
Editing and Auditing Candidate Sources
If a candidate applies to 3 different jobs at your company, JobScore preserves the source from when they were first added. You may talk to a candidate many times over many years, but there's only one way you first came in contact with someone and that's what the candidate source is designed to represent.
The source value of each candidate can be "overridden" and edited by clicking the edit link in the upper right corner of the contact area of the view candidate > overview page. If one of your team changes a candidate's source, JobScore tracks the source that is being overwritten and who did that in the candidate's history. This means if you have a dispute about who sourced a candidate, it's easy to see if someone has been messing with the data. JobScore always reports on the current source of each candidate, past sources and edits are not reflected in reports.