Job fields provide a way to customize JobScore to do what your business needs. Each job in JobScore includes set fields like job title, department, and location. Custom job fields allow you to create additional fields (like "Priority") and then set an answer for each specific job (like "High").
There are three types of job fields: text, checkbox, and multiple choice. Only users with the Owner and Admin access levels can add, view, and edit job fields.
Job fields appear in the job details area of the Add/Edit Job pages and in the summary area of the View Job page: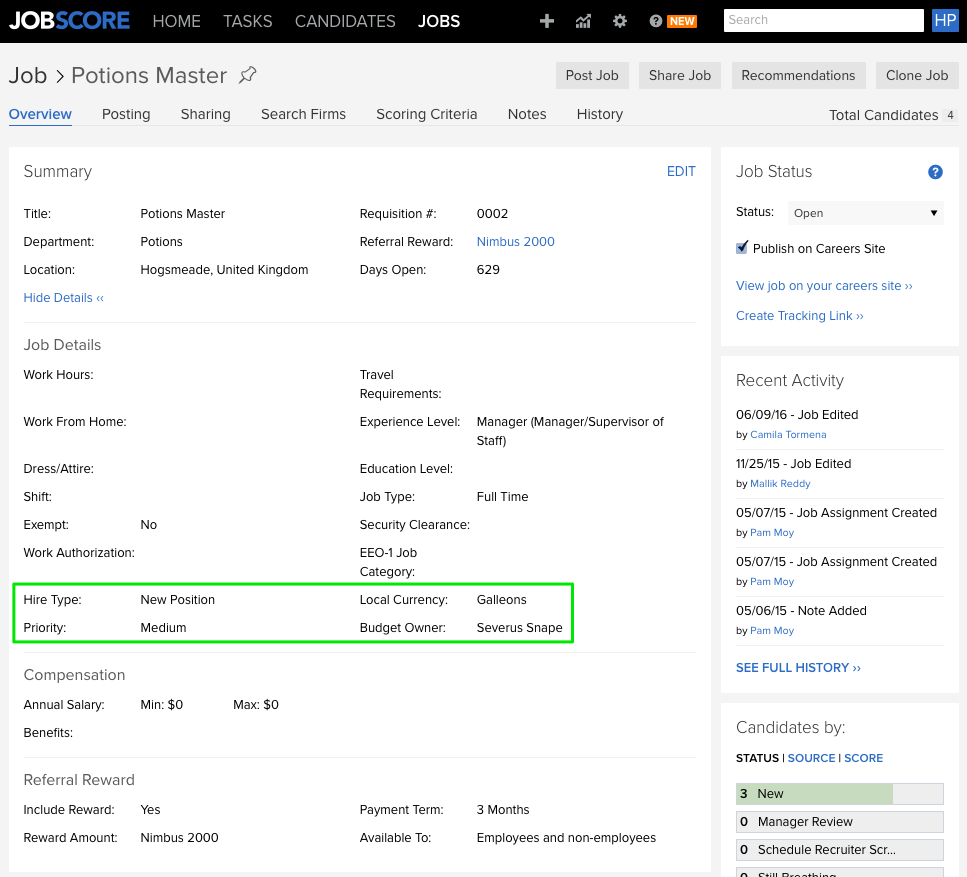 Information entered into job fields is included in the download on the Job Manager as well as the download of the Hire, Pipeline and Activity reports. An additional column is added to each downloaded spreadsheet for each job field:



Job fields are always displayed in the same sequence they are shown on the Admin > Job Fields page, where you can easily drag and drop to reorder them.
Job Fields and Reporting
Job fields are most frequently used to address reporting needs, helping to eliminate hours spent manually updating spreadsheets.
Job fields make it easy to store information from other departments (Finance, Sales) in JobScore. This often includes information like HRIS job IDs, budget owners, compensation bands, or whether a job is a new hire or a replacement backfill.
Storing this information in JobScore makes weekly, monthly and quarterly reporting as easy as clicking the "download" button on the Job Manager, Hire Report, Pipeline Report or Activity Report pages, there's no need to lookup data from other systems and manually update the spreadsheet each time.
Job Fields and your Careers Site
Job fields can also be used to customize the information shown on your careers site. For instance, if you'd like to show "Fun Factor" in addition to a location and a department for each of the jobs on your careers site, you can do that by creating a Job Field.
When you select yes for "include in feeds" the job field label and answer will be included in the Job Feed API for your account, so your developer can display it for each job on your careers page.
Please contact support@jobscore.com if you need more help creating custom job fields and incorporating them into your careers site.
Job Fields and the JobScore Hire API
Job fields are not currently supported on a self-service basis in the JobScore Hire API. If you'd like to use job fields to build an integration with another system, please email api@jobscore.com with a brief description of what you'd like to do.