Only users with the JobScore Admin or Owner access level can complete the steps below.
Only Office 365 administrators can complete the steps below. If you are not an Office 365 administrator, please share this article with an Office 365 administrator (usually someone in your IT department) and add them to your JobScore account on the add user page here.
If you use Microsoft Exchange, please complete a hybrid deployment so JobScore can access Microsoft's Graph APIs to power the integration (refer to this article for instructions). If you can't get a hybrid deployment working, please contact support@jobscore.com to discuss using our legacy Microsoft Exchange Web Services (EWS) integration.
---
Overview
JobScore is web-based software that your team uses to drive recruiting. Scheduling phone calls and interviews is an important and time-consuming part of hiring. The JobScore ←→ Office 365 integration makes this faster + easier by allowing your recruiting team to do the following from the JobScore interface:
See your team's free/busy status
Schedule phone calls and complex, multi-person onsite interview panels
This saves hundreds, if not thousands, of clicks each month, logs of who-spoke-with-who, whether team members added feedback, and creates a place to view and report on interviewing activity for the entire company.
Installation Instructions
Visit the Setup Calendar integration page in the JobScore administrative console.
Select the Microsoft Office 365 option.
If you would like to have a shared recruiting calendar, create a unique user to power the integration in office 365 (we recommend naming the user "Recruiting Calendar" and setting their email address to jobscore.scheduling@domain.com) and enter the unique user's email in the Recruiting Calendar Email field
Select whether you would prefer the "Normal" event invitation alternative, which sends invites your users will need to review and confirm, or the "No invite" option which automatically accepts invites published to user's calendars. (No invite is recommended for more efficient scheduling)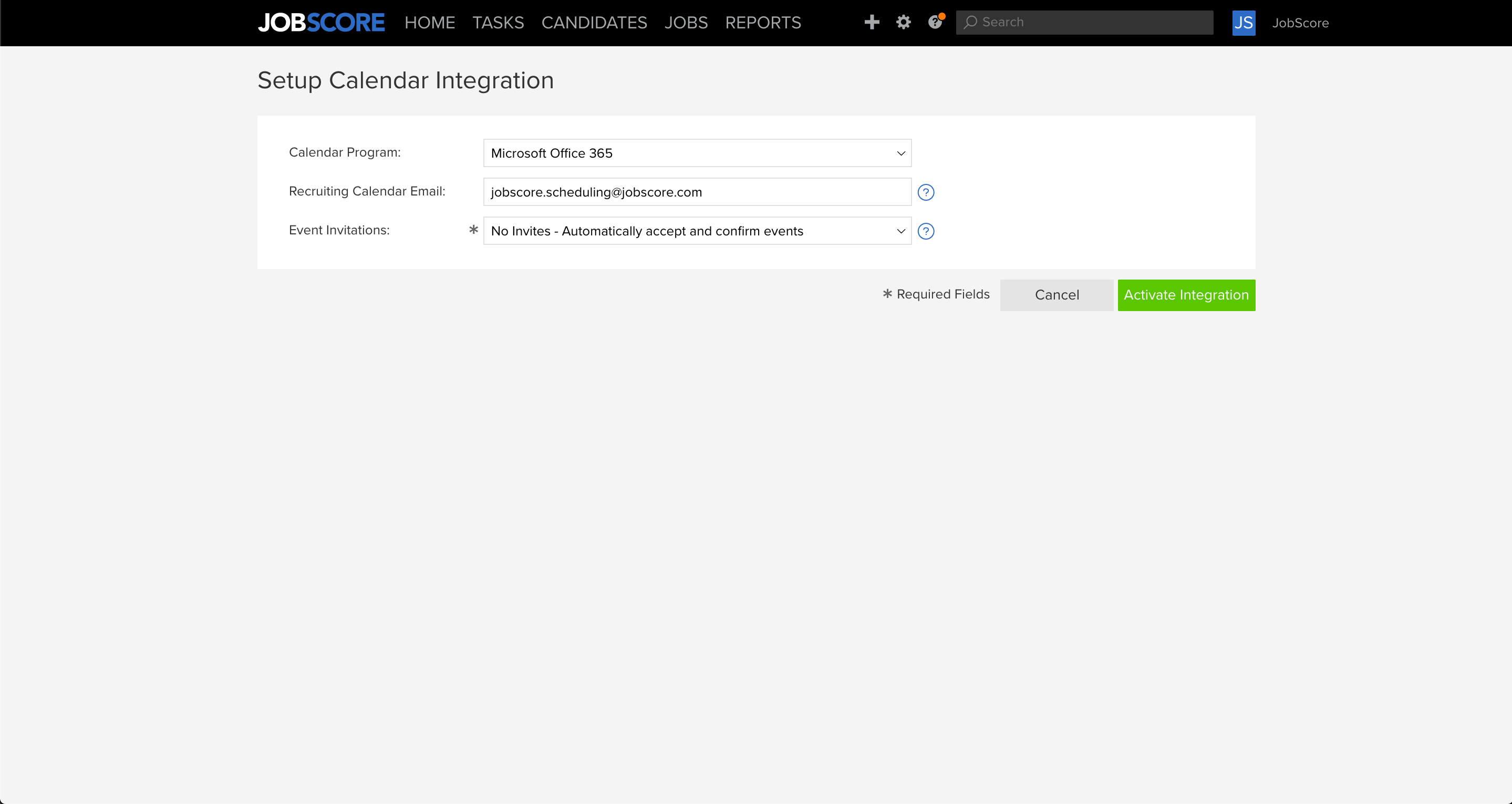 Click to activate the integration, which will prompt you to log in to Microsoft Office 365 to authenticate the integration and install JobScore's Office 365 app.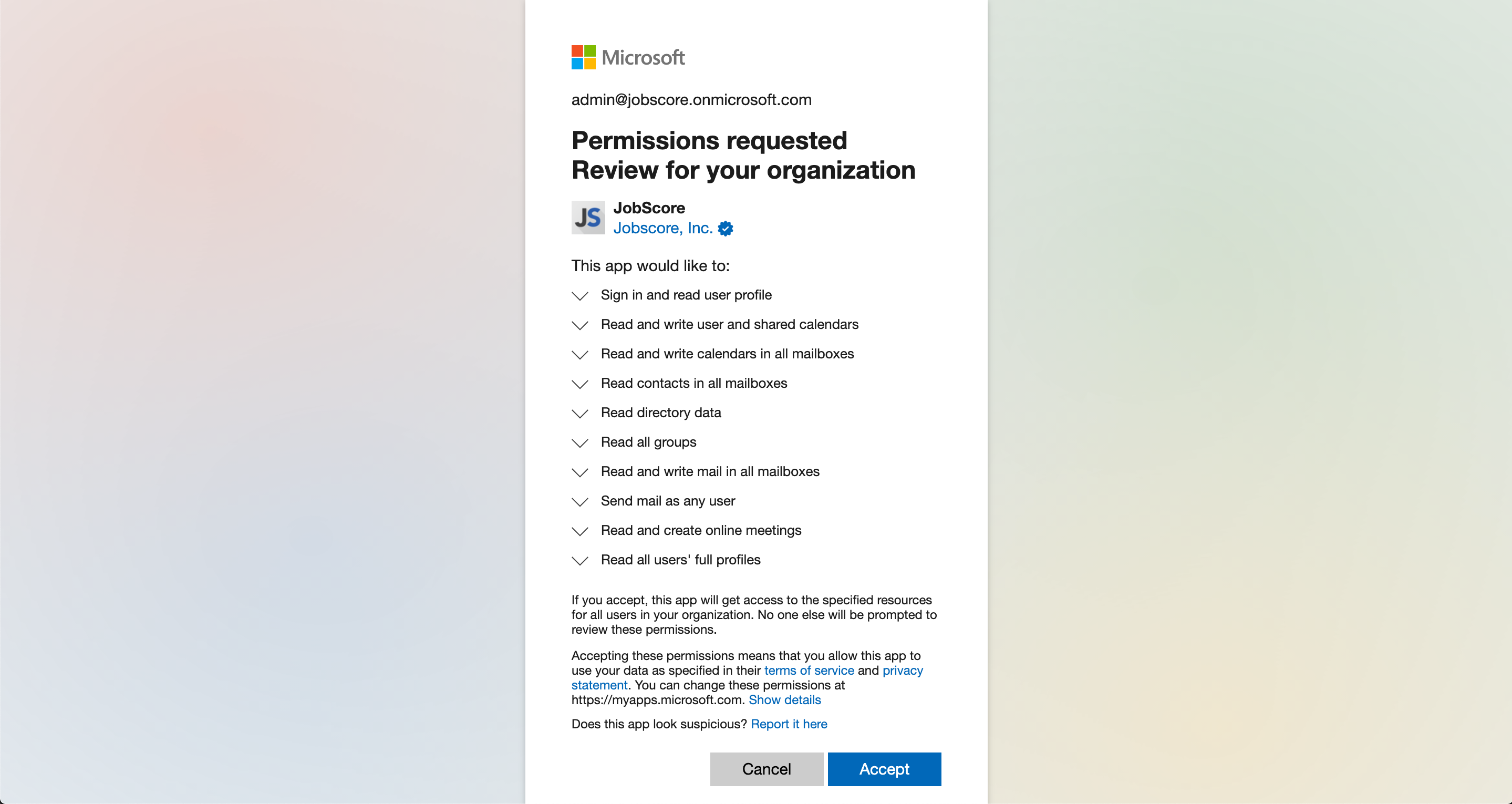 That's it! Installing the Office 365 app will also allow you to create Microsoft Teams meetings and insert them into scheduled interviews. Learn more about the Microsoft Teams integration here >>
---
FAQs
Recruiting Calendar
You can opt to create a new user with the username "JobScore Scheduling" and the email address jobscore.scheduling@[insertyourdomainhere].com to power up the installation - this will make it easy for your team to know what's happening when appointments are added to their calendar working similarly to a shared calendar.
All of the tasks created on JobScore will have an event created on this user's calendar and on the attendees' personal calendars. The integration will work without this user, but if you decide not to create it, only the events on the personal calendars will be created, which will make it harder to track every event on your team's schedule from Office 365.
Troubleshooting Rooms
Interviews take place in conference rooms and JobScore makes it easy for your recruiting team to schedule them as well. JobScore will automatically show free/busy for all rooms set up in your Office 365 instance. If a room is not appearing, please verify it is configured correctly as a "room" resource (NOT equipment) on your mail server before contacting support@jobscore.com for assistance.
More calendar frequently asked questions can be found here >>