JobScore makes adding and managing jobs easy!
With just a few clicks your jobs can be added so you can then post for candidates to apply!
Write a Great Job Description
Before you get started, it's a good idea to write up a job post. Naturally, we have some ideas about how to write a great one — read about it now!
You can also create and save default job description templates.
Add Job
To add a job, click Jobs then, Add Jobs.

Choose if you want to use an existing Job Template or Copy an Existing Job. Let's use the Standard Job Template

Enter the following required information:
Job Title: The title for the open position you want candidates to see
Job Type: Whether this job is full-time, part-time, contract, temporary, internship or volunteer
Department: Which department in your company this job falls under
Location: The physical location of this job, you can also set this to be remote
Desired Experience: The experience level for this opening (student, entry-level, executive.. etc)
Job Description: The description of the job that you wrote ahead of time!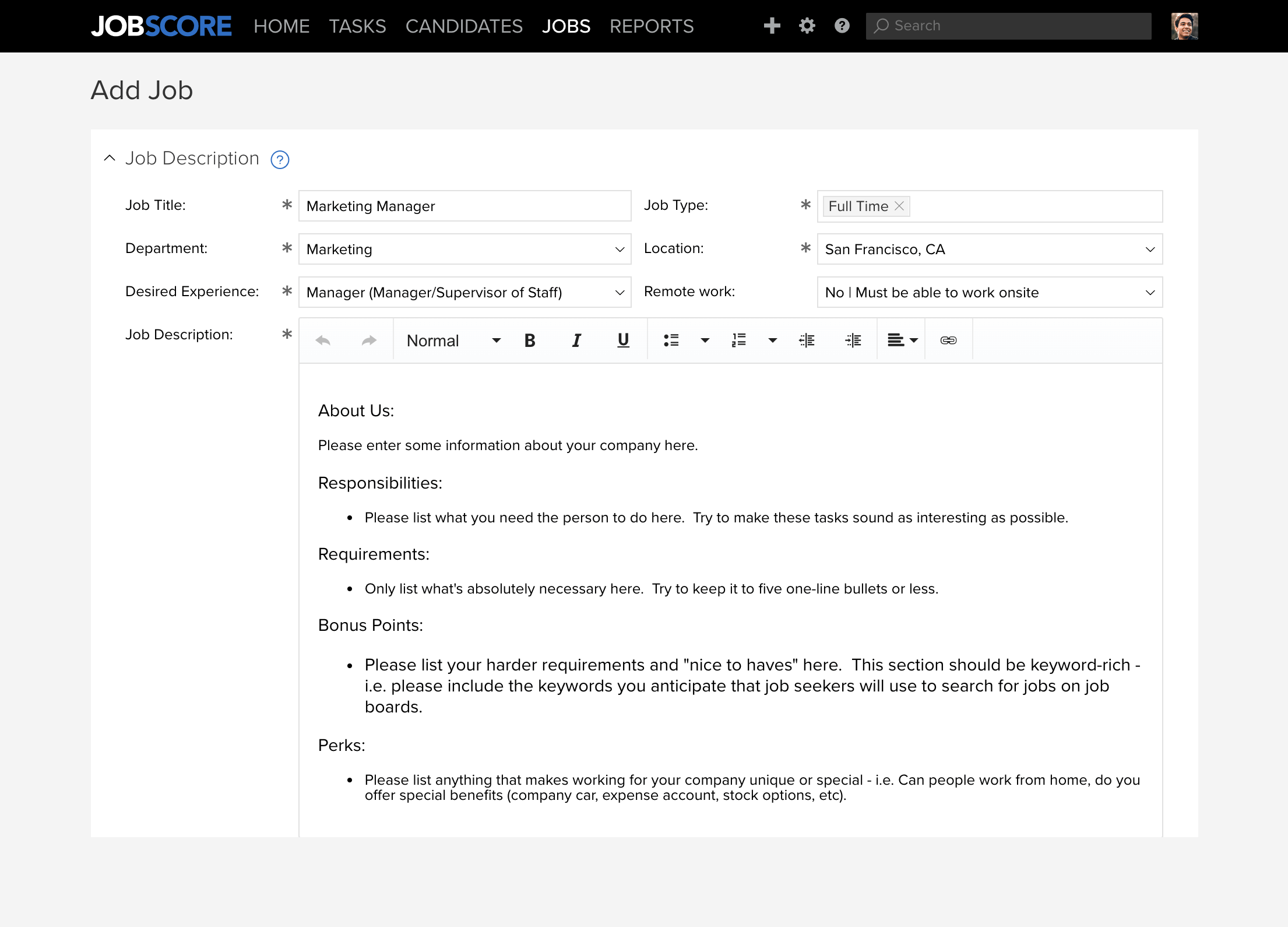 JobScore makes your jobs look awesome by allowing you to add media to your job listing.
You can insert a carousel of photos highlighting your company culture
You can add team profiles, by inserting the roles for the hiring team it will display the team members and their photos saved in JobScore
You can add a map of where this job is located, this will help the candidate understand the neighborhood
When you do, it will look something like this: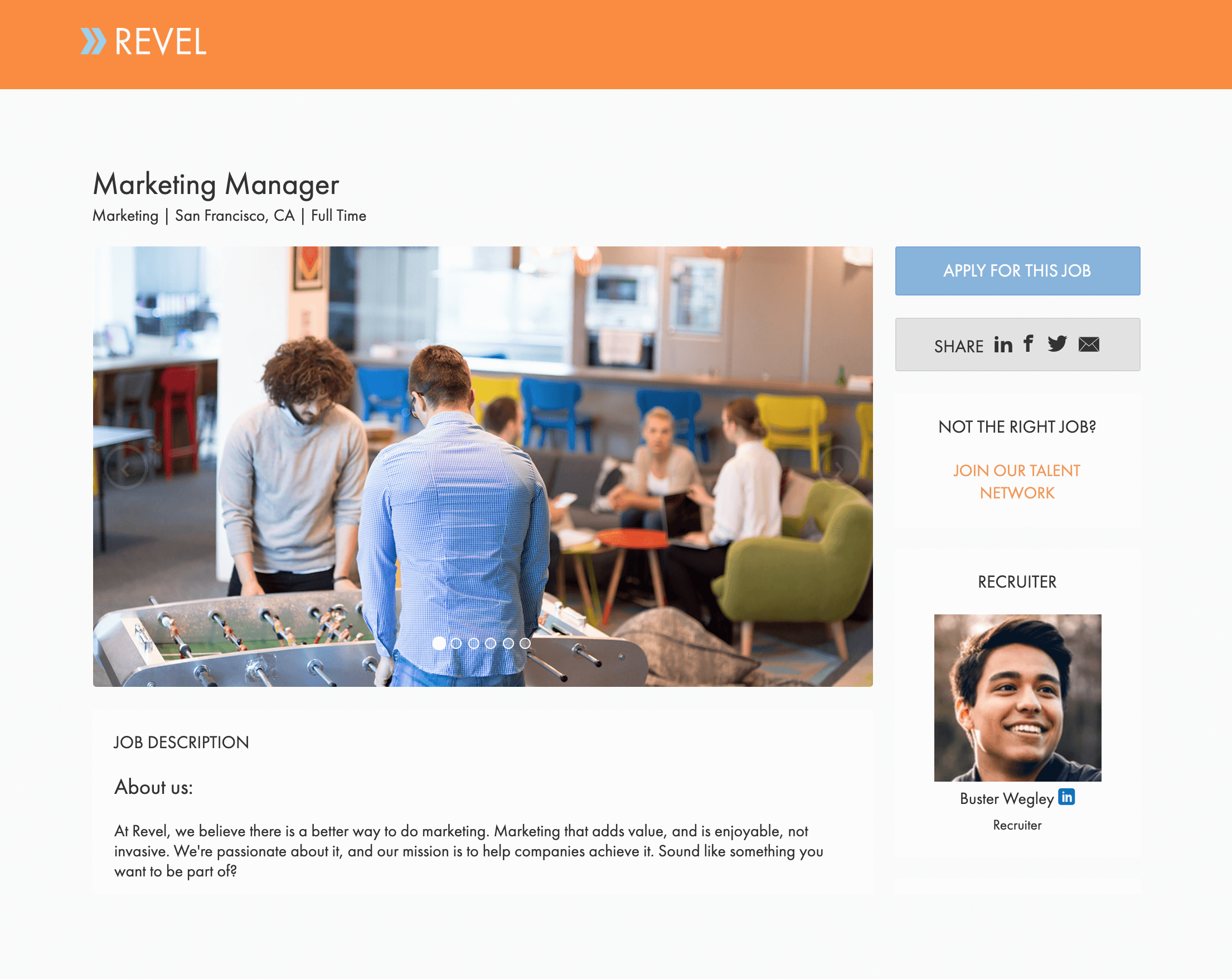 Next, you will want to fill out the hiring team.
Add anyone you want involved in the hiring process and assign them a role on the team. Each role is assigned different stages of the workflow so it's important to assign these roles.
Set their Candidate Alerts and Note Alert preferences.

For Candidate Alerts you will set this based on how much the user is in JobScore. If they use JobScore all day they don't need to be notified of every new candidate, but those who don't log in all the time might want a Daily Digest or Immediate notification of new candidates.
We recommend you set Note Alerts to immediately for everyone so that when your team adds feedback you are notified and can respond and add feedback through email

Set their visibility for Notes. There are some users you don't want to see all the feedback about a candidate so you will restrict them to Only My Notes. Others that you want to see everything you can leave as All Public Notes

The Job Application Form section allows you to customize the information you receive from the candidate in the application process. This will help you to screen out candidates early if they aren't going to be a great fit.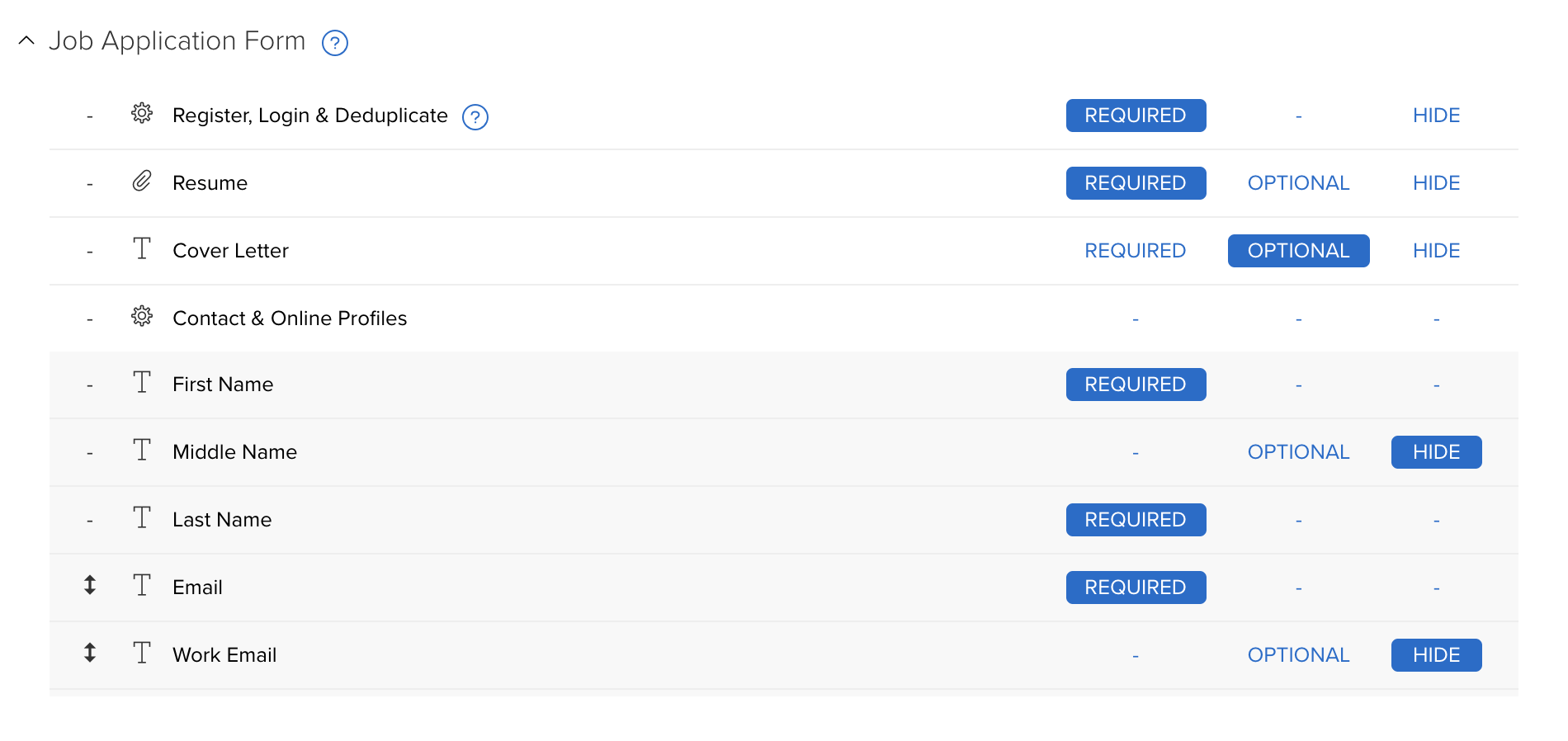 Approvals is a super handy feature that allows you to request team member feedback before creating a job. This feature is only available for enterprise customers. If you are interested in having access, please reach out to sales@jobscore.com.
Learn all about Approvals and how to set them up.
If approvals are turned on, the Add Job flow will look like this. The button at the bottom says Save Draft because you can only save it as a Draft until everyone on the team has reviewed it.
If approvals are not turned on, the Add Job flow will look like this. The buttons at the bottom will allow you to save the job as a Draft, or add the job in the Open or Internal state.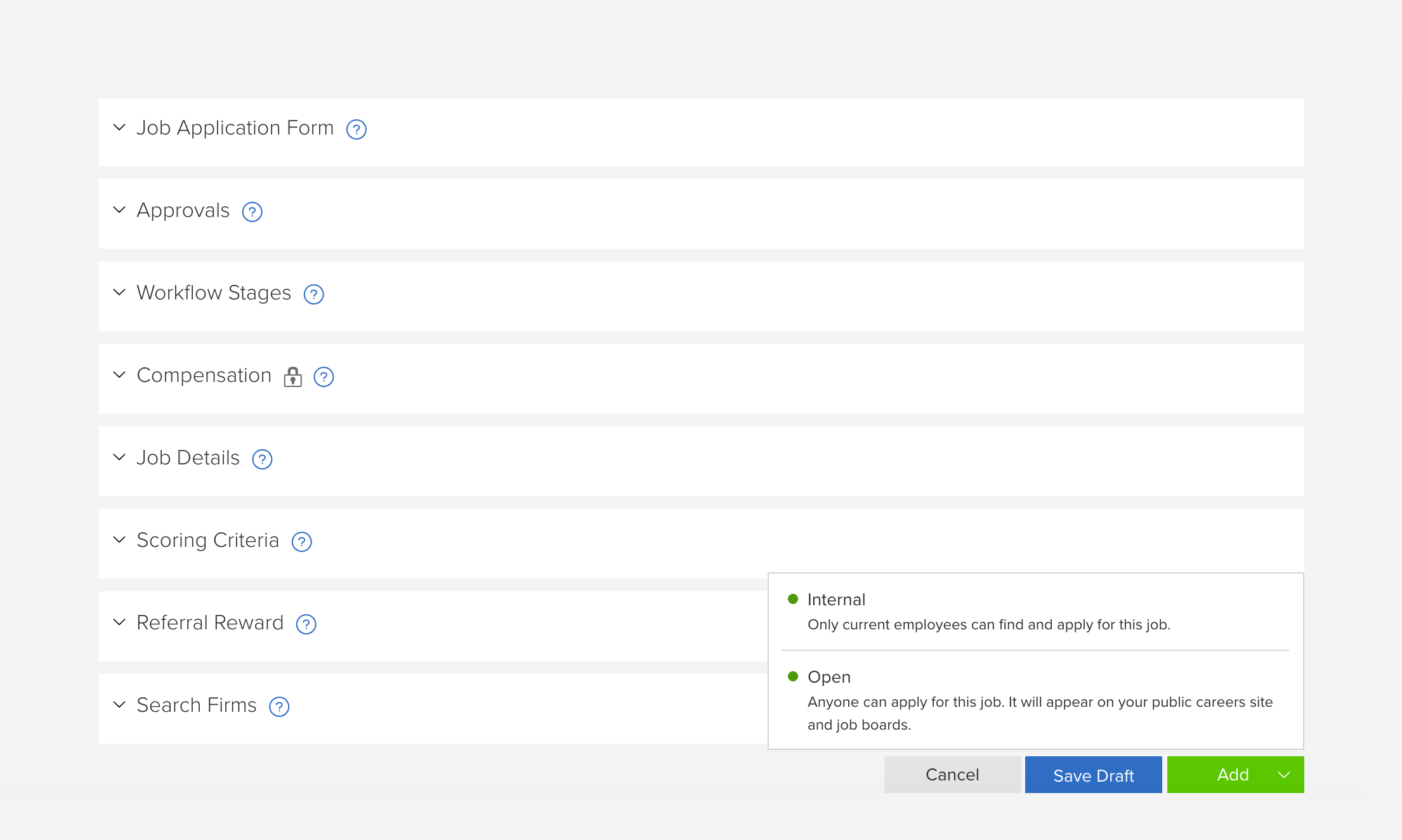 Each job comes with a Workflow based on the template you selected, you can add custom steps for this particular job by opening the Workflow section.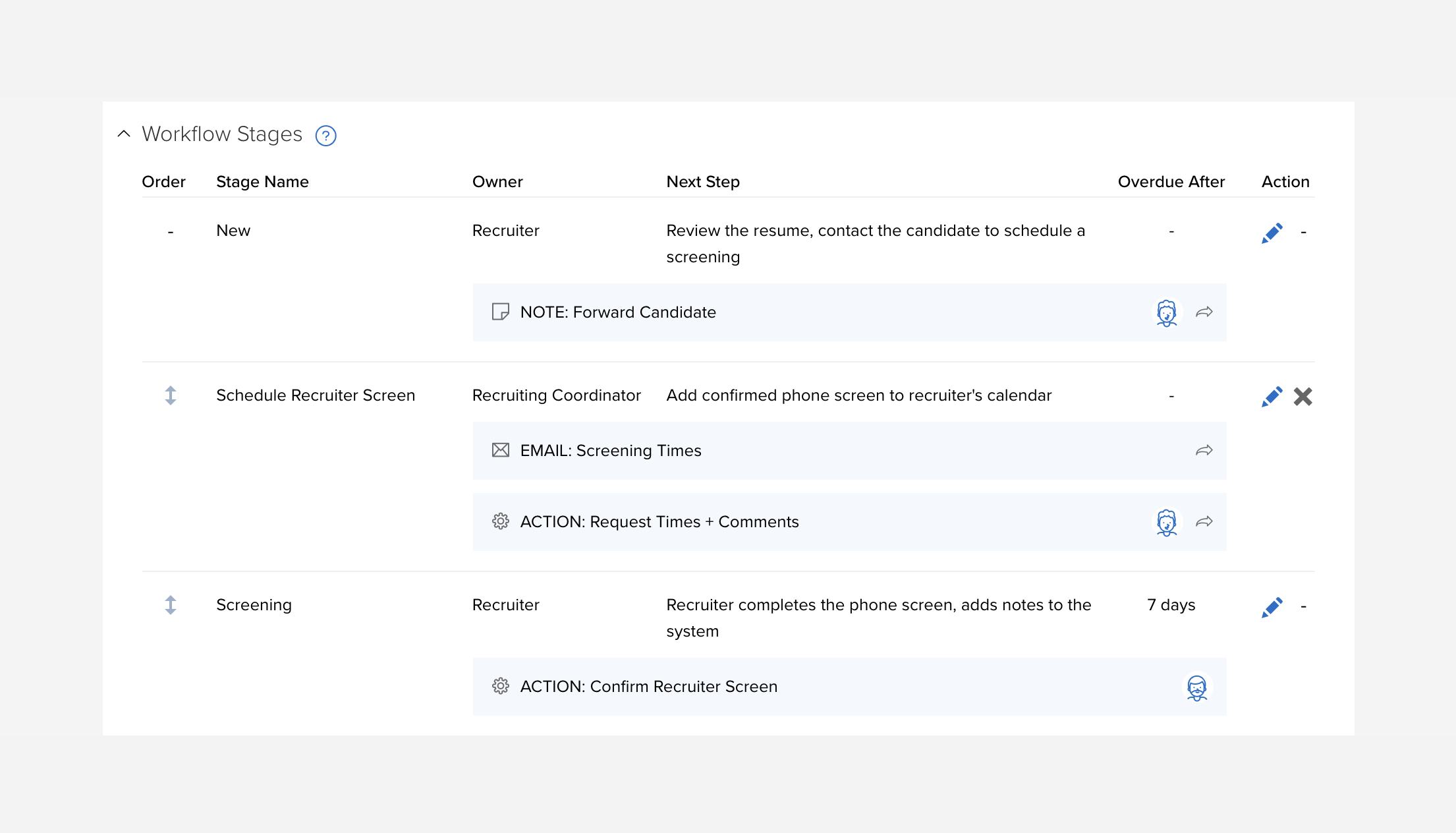 Add Compensation details, this is super important if you are using Approvals

Enter important Job Details like # of Openings and if it's an Evergreen Job. This means you can hire multiple people for the position or you can leave the position open forever if you are constantly hiring for that role.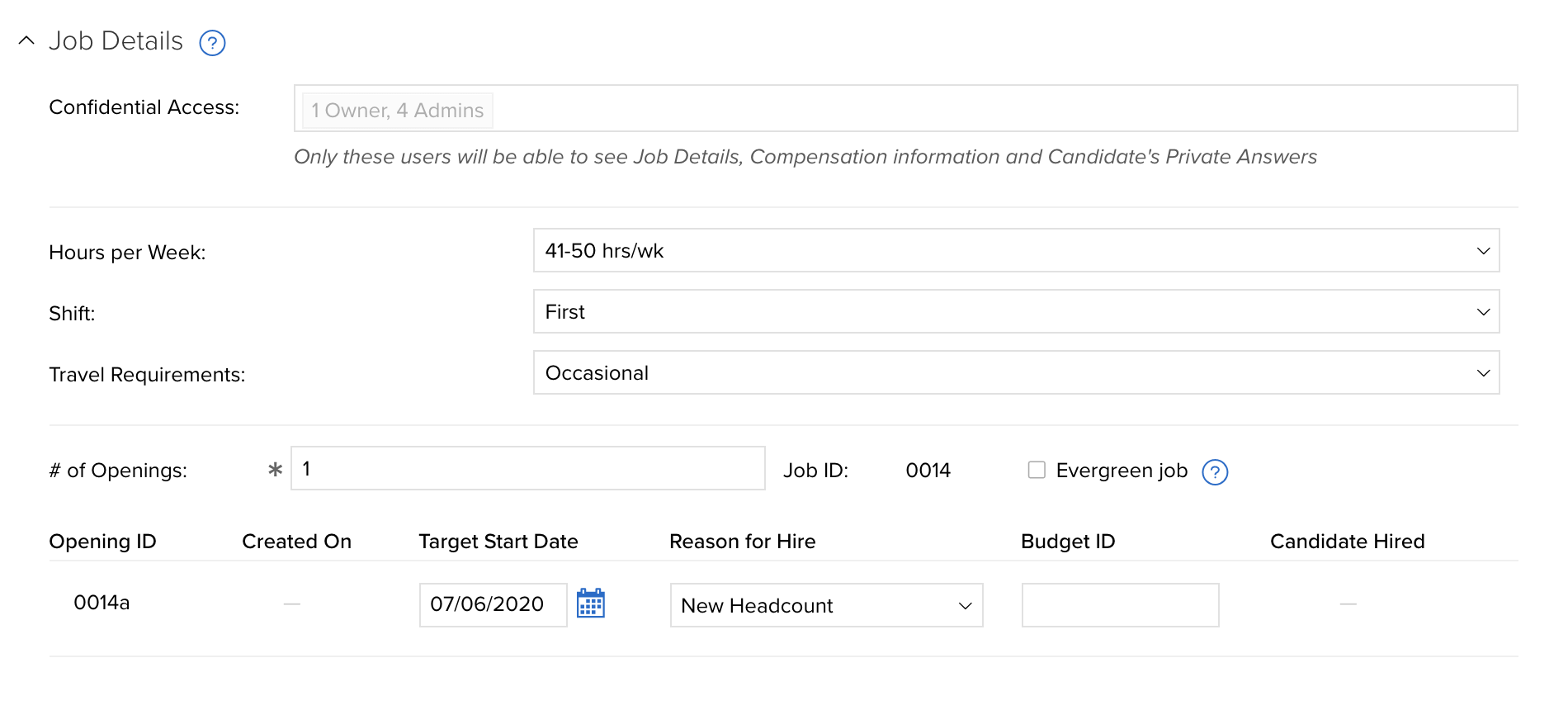 Referrals can be your best source for candidates. Incentivize your team by adding referral rewards to each job.

And finally, you can invite Search Firms to add Candidates directly to the job

Once you are done, either save it as a Draft or post it as an Internal Job or Open Job. Learn all about Job Postings here.
→ Pro Tips: Considerations When Adding Jobs
Complete everything on the Job Details page. Your data there helps JobScore match candidates to jobs.

Save yourself some time: set the default information for your jobs. The information — including Job Details, Job Description, Benefits, and Referral Reward — can pre-populate when you add new jobs. Create a template to ensure that all of your jobs have the same look and feel, consistent messaging, and represent your company's brand effectively.

Hiring is a team effort, and we make it easy to get everyone involved. First, assign your colleagues to the Hiring Team for jobs. When selected as a member of the Hiring Team, your hiring managers, interviewers, and recruiters can receive notifications about candidate interest. You'll need to add your co-workers as JobScore users before you can add them as team members. When assigning colleagues to the Hiring Team, make sure to select their role and frequency for how often they will be alerted when candidates apply (immediate or weekly digest).

To get the most value out of candidate matching, one of JobScore's sweet spots, we encourage you to tune your scoring criteria.
Get everybody ready to toast to your fine work, because you're almost ready to go live!
The last step before launching all of your awesome job postings is Setting Up Your Careers Site.